2021 Editors' Choice Poems
Week 2
Poetry Month Contest
Submit 1-3 poems of any form or style that speak to Remembering/Reckoning as a response to the traumas of 2020
"Thanatophobia"
by
Amber Moss
When I visit graveyards, I gaze at the unwalled patches of the lot, scanning over the names of bodies submerged underneath calla lilies and peonies. I close my eyes and wait to feel the souls relinquished by God. Every body leaves behind a spirit. Words from my grandmother who swears she can feel the flick of her mother's finger whenever she sprinkles too much salt in her grits. Maybe she's right, and that warmth I feel when I lie down in a wilting garden is really my departed childhood friend holding my body against hers. Years ago, I adopted a vegetarian diet so I wouldn't die from eating tainted slabs of meat. Death seemed too near and my only option was to push it in the direction of the ocean. I'd rather it extract the body of a trout than the Black skin that shields my bones. Every body leaves behind a spirit. Even the Black knuckles that turn the color of faded eggplant once cold. So, I dig my palms into the dirt and wait for the wind to squeeze my ears, announcing another spirit.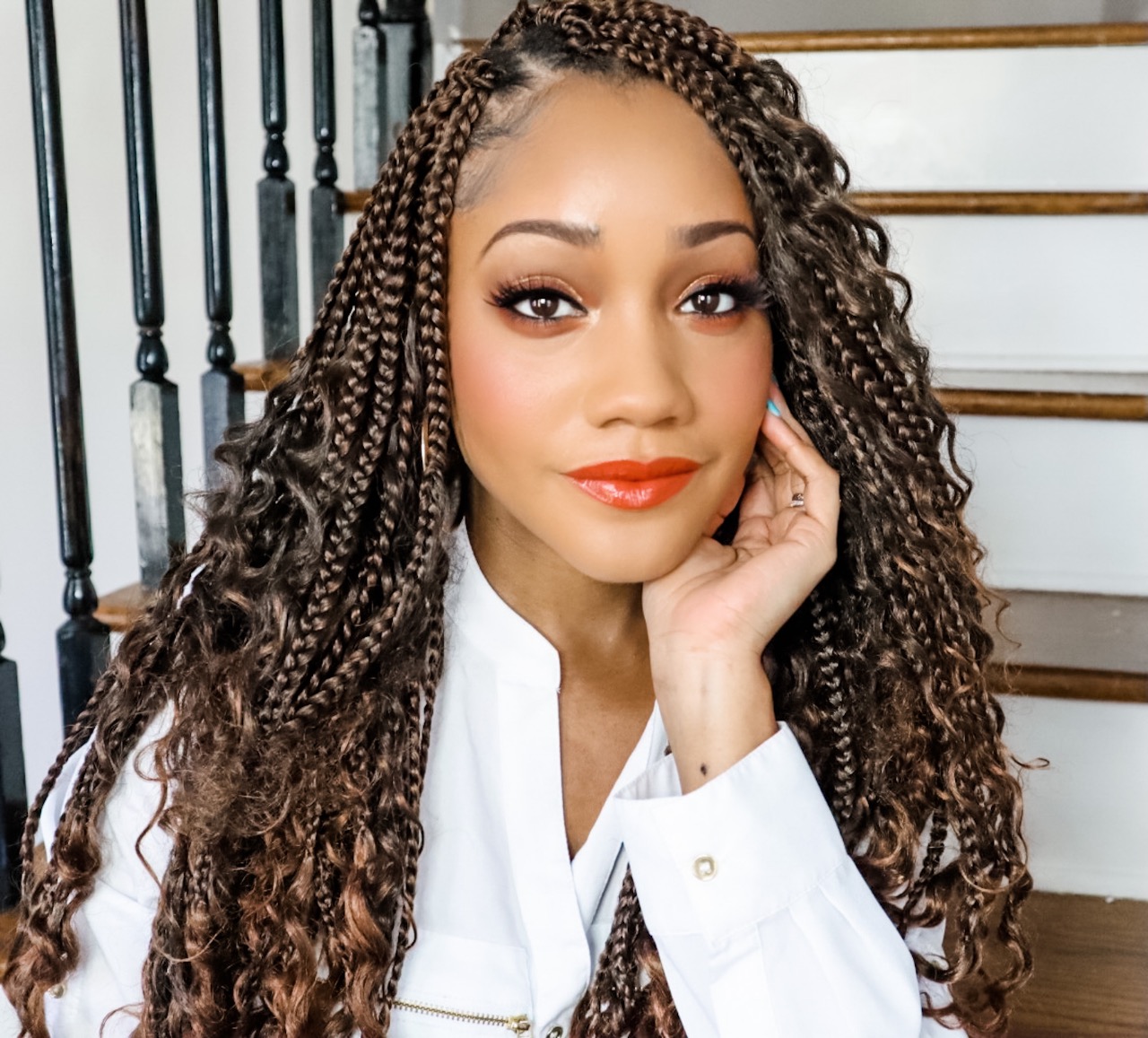 Amber Moss is a Black writer and editor from Atlanta. She earned her bachelor's degree in English from the University of South Florida. She is the author of one full-length poetry collection and two chapbooks. Her latest chapbook, Some Kind Of Black, is forthcoming in 2022 (Nymeria Publishing). Her poetry has been published in Bewildering Stories, Little Rose Magazine, Liminality Magzine, Poetry Super Highway, and others.
"Superstition"
by Jen Karetnick
Zabar's bagels and signature sourdough rye on the table, un-
yielding bricks for the corned beef, pastrami, lox sliced as thin as
x-rays, salty rims of salmon countering the shmears of cream cheese…
washing our hands without blessings, we ate like raccoons from this
vibraphone of commonality, the tribe demonstrating our usual
uncouth rituals. The sour cotton of mask-mouth sticks to my untended
tongue now, but I can still taste the immaculate anise of caraway
seeds, feel them pricking the gums between my molars. There is good
reason to fear that this sense memory will be all that I have left to
quantify our relationship, or that it sums us up, that we're a family
punctuated by emotive meals instead of words, communicating with-
out anything besides compliments to the chef. Recently my daughter
noticed that I never say I love you when I hang up after phoning my
mother or father. Those words aren't uttered on the other end of the
line either, and rarely have been, although sometimes after a
knife-worded argument, they're a gift of solace or relief. I can't
justify how our voices dun into the color of propriety when
I speak with them, eggshell-white walls you shouldn't touch, pristine
housewares catalog, even as my mother loosens the fist of convention's
grip, marveling out loud at former family secrets, my once-silent
father no longer wanting to end a conversation. Tell me, he says. What
else. At this distance, we can't keep our mouths filled with food. What
diamond after diamond of air molecules will we fall through if we
consider a different kind of verbal leave-taking? I think about these good-
byes as if they are wills that were always meant to be written but weren't,
afraid that if we confess to love now, it will be the spell that breaks us.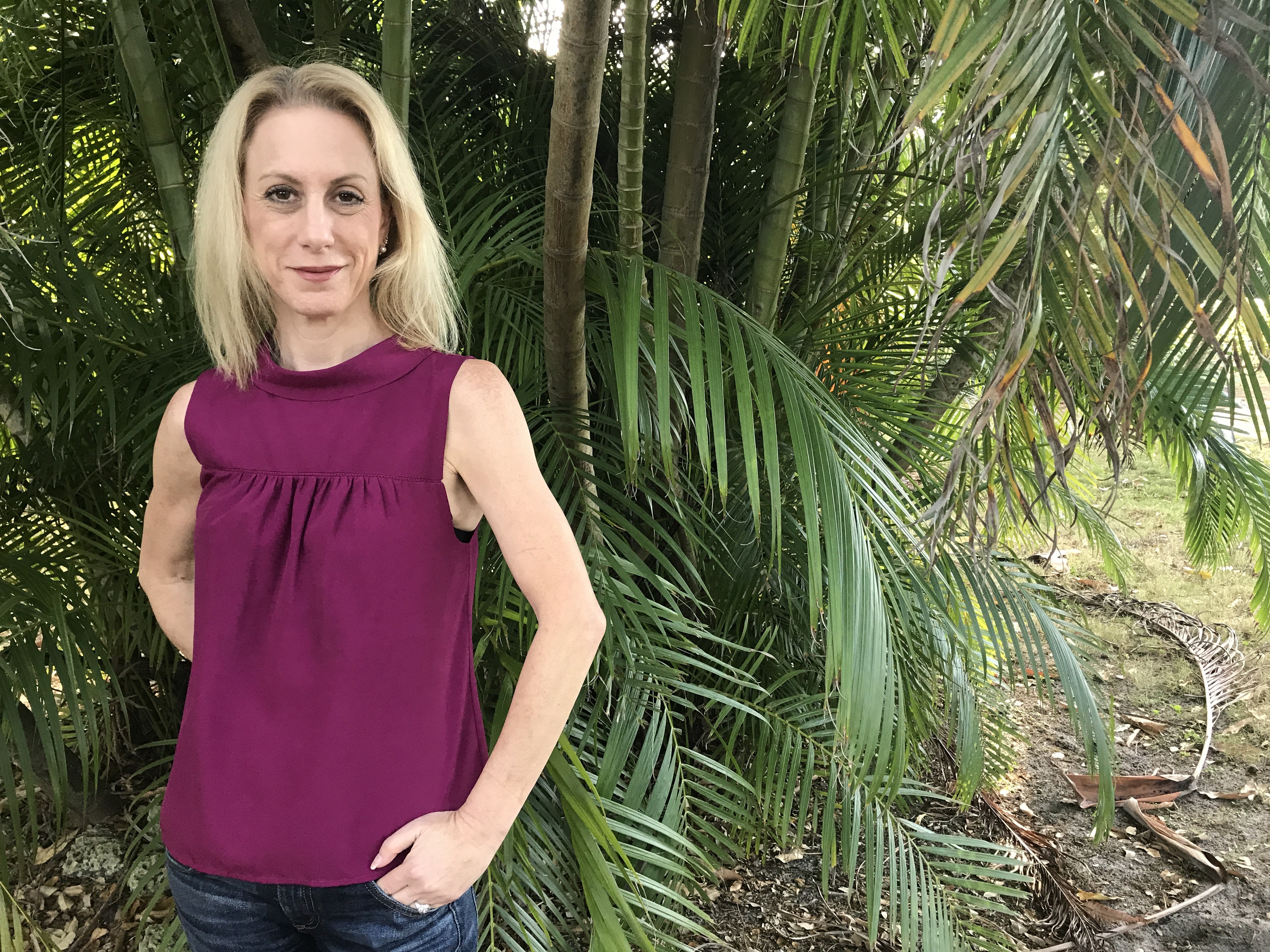 Jen Karetnick (she/her) is a chronically ill, Jewish-American poet and writer who frequently interrogates issues of disability, visibility, aging, and ethnicity. Her fourth full-length book is The Burning Where Breath Used to Be (David Robert Books, September 2020). She is also the author of Hunger Until It's Pain (Salmon Poetry, forthcoming spring 2023); The Treasures That Prevail (Whitepoint Press, September 2016), finalist for the 2017 Poetry Society of Virginia Book Prize; and the chapbook The Crossing Over (March 2019), winner of the 2018 Split Rock Review Chapbook Competition, in addition to six other collections. Karetnick has won the Tiferet Writing Contest for Poetry, the Hart Crane Memorial Prize, and the Anna Davidson Rosenberg Prize, among others, and has been an Artist in Residence in the Everglades, a Deering Estate Artist in Residence, and a Maryland Purple Line Transit grant recipient. Co-founder and managing editor of SWWIM Every Day, she has work appearing recently in Barrow Street, The Comstock Review, december, Michigan Quarterly Review, Terrain.org, and elsewhere. Based in Miami, she works as a lifestyle journalist, the co-author of the garden-to-table newsletter Dishtillery, and an educator. She is the author of four cookbooks, four guidebooks, and more. Find her on Twitter @Kavetchnik and Instagram @JenKaretnick, or see jkaretnick.com.
"Queer Crucifixion"
by Mallika Khan
I do not know loss, but I have lost to God.
Several times. Never by choice. Now, I hold
my Queer under my palm. It squeezes
itself between my fingers, clawing back
across the dining table. A spidery hand
slowly making its way to my mum.
I cannot let my Queer crucify my mum.
We interlock fingers around the table. Thank God
for the meal. Pray for my family to come back
to me instead. I ache from reaching out my hand,
knowing that my aunty will not hold
it anymore. Another death. The grief squeezes
my chest through my ribcage. She squeezes
her eyes shut, quickly. Before my mum
finds out. My gaze pierces my impure hand,
knowing all the perverse love it can hold
when I am with Her. Perhaps, I could ask God
why my Queer carries a hammer and nails. My back
should be hunched over. Instead, I lean back
to find more than a chair. Shame that squeezes
me into a tight embrace. How does it hold
me closer than my family ever would? Surely God
could reconsider this sin. I know my mum
carries my cross behind her. Her hand
covered in splinters. The same weary hand
preparing peace offerings. Meals to bring back
the relatives that denied me thrice for God.
For they don't know me at all. I watch my mum
ask for mercy with every spoonful of rice. Squeezes
leftover grace into plastic containers for them to hold
onto as they pass over. She tells me to hold
my tongue when they speak death. Her hand
clutches my Queer firmly as they leave. Mum,
I wish I wasn't something to fight for. It squeezes
out of me, a thought. That turning her back
meant they died for her too. Forgive me, God.
Truth is, I fear I will lose my mum to God
every day. But for now, I hold her hand
while we pray. She always squeezes back.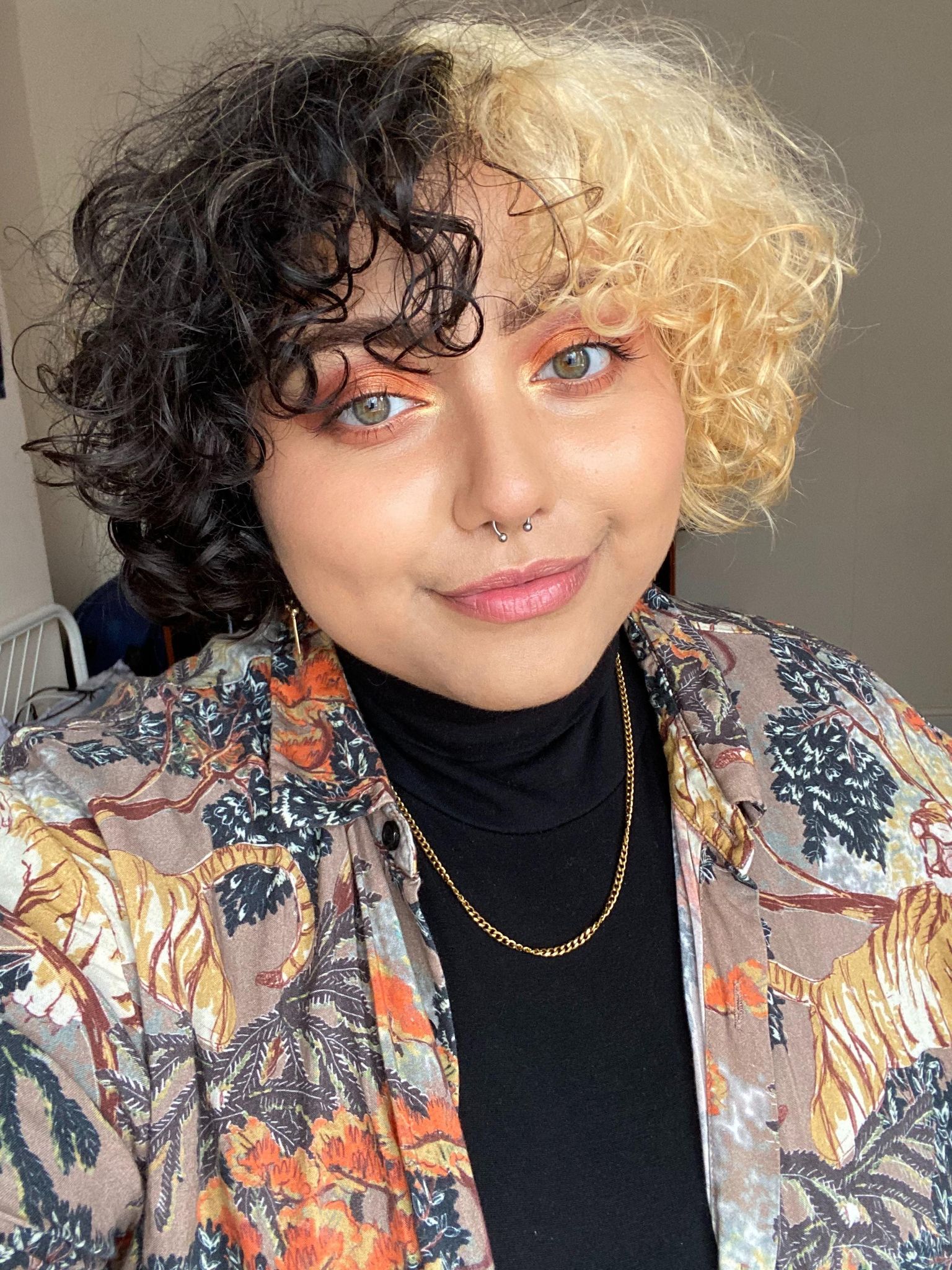 Mallika Khan is a 22 year-old queer Pakistani poet and artist based in Bristol. They study Psychology with Criminology at the University of the West of England. They believe that where sorrow lies, resilience and strength is always there too; and this is the main focus of their work. Mallika's poetry has received recognition from Bristol Women's Voice and Art Within The Cracks, however, this is their debut poetry publication.
More information on Mallika's work can be found on their website at: https://mallikakhan.wixsite.com/studio