Appreciating the Process
Art Therapy, Poetry, and Grief
Appreciating the Process
Thoughts are not always able to be verbally articulated, especially after a person experiences overwhelming levels of stress. Hidden words may struggle to connect or at times feel safer not to say. Art allows us to explore our inner depths, places where words alone cannot go, and provides a way to relate our experiences to each other. Art has a powerful way of revealing our truth, without the requirement of turning each creation into a complete masterpiece. Engaging in the creative process provides a way to safely explore the metaphors of our physical, cognitive, and emotional experiences. These artistic reflections provide a way to observe the poetry of our daily lives.
As an art therapist, I support other people in exploring art-based observations of their thoughts, feelings, and emotions. I am also an active participant in engaging in the creative process for personal self-reflection and expression. When I am creating, I use awareness of my full body in the creative process to guide what needs to be acknowledged or expressed. What follows is a sharing of how the creative process supports the healing process.
I approached the following art sessions intending to embody the idea of trauma, creativity, and finding your voice—as a collective experience. Yet this project served as a reminder that each piece of art we create, that we put our soul into, becomes an essence or a reflection of ourselves. The progression that follows provides an intimate look into how I used awareness of my physical and emotional sensations, attunement to rhythmic movements, and the process of creating to explore an idea, and it brought me back to the stories I carried within my own body and our need for connection.
Precontemplation
Anger. Angst. Resentment.
Trauma.
Anger. Angst. Resentment.
Trauma.
Misalignment. Silence.
Is anybody listening?
Silent nods, blank stares,
Empty gazes.
Is anybody open to hearing?
Cruel eyes,
Smiling lies.
Anger. Angst. Resentment.
Trauma.
Anger. Angst. Resentment.
Trauma.
Distance. Silence.
There is no need for words,
When others no longer hear.
Closed off, shut down.
Anger, angst, resentment.
Trauma.
The overwhelm, firms its grasp
Opaque perseverance
Slipping fast.
Alexithymia, sinking in.
Disconnected. Silence.
The Creative Process
Day 1. Preparation.
The need for release. There is no direction on where I am going, or what I am trying to create. Only the need for movement. Drumming is playing softly in the background, holding a steady beat. Holding space for me and my racing thoughts, a rhythm to hold onto. My body begins to move, as a pulse, the paintbrush on the canvas paper. One is not enough to hold the internal energy that is seeping from deep within me, I need three. It is messy, it is heavy and tight. Slightly chaotic. It feels unresolved. Unknown. Uncertain, to what the next steps are supposed to be.
Materials used: acrylic paint, watercolor paint, canvas paper, string, and twine
I am frustrated with the feeling of not knowing what I am supposed to do.
What my next steps are supposed to be.
Day 2.
I return to the canvases, three. I add a little color.
I cannot even look at the other two.
It all feels chaotic and forced. Too busy to begin.
My words and my images are not in harmony.
Day 3:
I need a new canvas, a larger one. Small spaces to create in keep my movements too small, my emotions too constricted, and the tightness in my chest too tense. I need songs that remind me of my father. I squeeze colors onto the canvas, back and forth. Back and forth. I push the paint with exaggerated movements. Side lunging from one side to the other. I turn the canvas and paint all the way around the table. I hear songs that connect me to memories of my father, the tears fall from my eyes. I am still not out of the season of his sudden death, and my body quakes with pain. My chest heaves, and I am reminded of all of the loss, pain, grief, and stress that has been compounding in my body for years. The paintbrush is moving from one side of the canvas to the other, rocking me back and forth. My whole body is swaying with the paint, steadily. A soothing, rhythmic movement that allows my body, my feelings, to soften, to release. I feel sad, but something in me has shifted. I leave the space feeling like I can breathe. I feel the sunshine on my face as I walk towards my car.
Materials used: acrylic paint on canvas
Day 4: Incubation.
From the blank canvas, an image appears. A gesture, a frustration, a disconnected sadness. She is hollow, lonely, barren, and doubting the message of her own voice. Her heart is barely capable of even a gentle whisper, her nervous system taxed, from being on over-alert for far too long. She has resorted to the place of silence; she no longer has the fight. Yet, I want to sit with her, she is quiet, far from perfect or complete, but I want to be there to notice, visually listen, and honor what she may have to say.
Materials used: charcoal on canvas.
I am no stranger to this stressed lady
My body carries her, true
Nightly stirs, daytime blurs
Keep pushing, something will break through
I am no stranger to this overwhelmed companion
I know her palpitations, all too well.
The story, the tears, the defensive ire
I know her, all too well
I am no stranger to this grieving teacher
I know her lessons all, too well.
A baby who never had a chance to cry
Clenching tears for what never came, to be, true
Adjust, attempt, adapt
Creatively reframe, rename, re-remember
The narrative rationalizations I convinced myself to be true.
Find a beat and continue.
Strength lies deep within you.
Day 5:
Barren. Visceral. Unstable. Volatile.
Sensations arise.
Not knowing what to focus on.
Materials used: charcoal, dead flowers,
Elmer's Glue, acrylic paint
How do I use my voice
When I have forgotten how to speak?
Or perhaps I am just too scared to hear
what the truth may have to say.
The words remain, inward, somewhere
Drifting aimlessly
Day 6: Illumination.
Smothered. Seeking safety by numbing,
a self-induced haze.
Sensing a spark, grasping for a lifeline through the fog.
Not wanting to be alone.
Materials: paint, pastels, and wine.
The silence fogs like a cloak
Clasps like a cinch
Clouds the horizon
And tunnels the peripheries.
There is no narrator in real life,
Depicting every detail, every injustice, poetically
Only palpitations and bodily sensations
Living proof that my mind and my body
Narrate the stories differently.
The stress, the trauma, the blocks
The disconnect.
The children's cries, the lack thereof
The tears for the past, and the future
The heroes fallen.
The stories, re-written
The swells that regularly flood through
The sleepless nights
The empty meals
The longing for something new
Each little pebble, a fleck in the stone
Weighing heavily on Broca's burden
Keeping us speechless, numb, and hollow.
Empty. Barren. Collapsed.
My dormant dorsal vagal
Keeping me frozen and unable to engage, relate
Disconnecting me from the words
I may someday want to say.
Day 7.
Sitting with uncertainty, seeking community. I sit with her, she sits with me, over my morning coffee. We sit in the sunlight, craving connection, she urges me to use my resources, seek support. Reminding me that healing does not happen in isolation. We reach out to those closest, supposedly, safest to me. I pour a second cup.
"What is the red stuff?" and "Is this about menopause?" I am questioned. No, and through your projections my experiences no longer get to be about me.
Due to our lack of a beautiful and elegant description, perhaps it's just embodied uncertainty.
"What about her eyes?" I hear compassionately; she is not yet able, or ready, to clearly see.
I realize I no longer can tell the difference between her voice and me.
"The head is like a landscape." "So much movement and energy." Through others shared and non-responses, I remember the story lies within me.
Materials: coffee and sunshine
Healing doesn't happen in isolation.
Words, often empty, are rarely, enough.
Left brain doesn't quickly assimilate,
without stimulation from the right
Two wings of the same bird,
So tremendously lost in flight.
Healing takes commitment
A desire to stay consciously awake
To recognize, feel, and allow sensations
Embrace, here and hear, now, today
Day 8:
Reconnecting to my rhythm
Reminded me to rock, to move, to sway
To nourish, to celebrate, and soothe my system,
In an instinctual, ancestral way
Re-establishing my sense of calm
A parasympathetic revival
Lifting my chin out of my shame
Possibly preparing, contemplating
For what it would be like to
re-engage
In a most, communal way
With heart lifted towards the sky
Possessing a posture of dignity, curiosity ignites
Movement, paint, and clay
My body knows the way.
My body tells the story
It is up to me to learn to listen to what each sensation has to say.
Survival instincts, slowly, can be re-written.
Through images and synchronicity,
Words, again, can find their way.
From our art,
Images, then words, come from the heart.
And true integration, connection
Rhythmic regulation, pulses in.
Healing, a slow and steady progression,
A rhythm that needs but a beat to begin.
Day 9. Verification
Sill perhaps unfinished. Still okay with uncertainty. Following my own guiding light.
Learning to listen to what is within.
Seeing more clearly, a celebration of colors.
Embracing the night and the beauty for what has been.
The scars, they may remain, but I am open to embracing the change.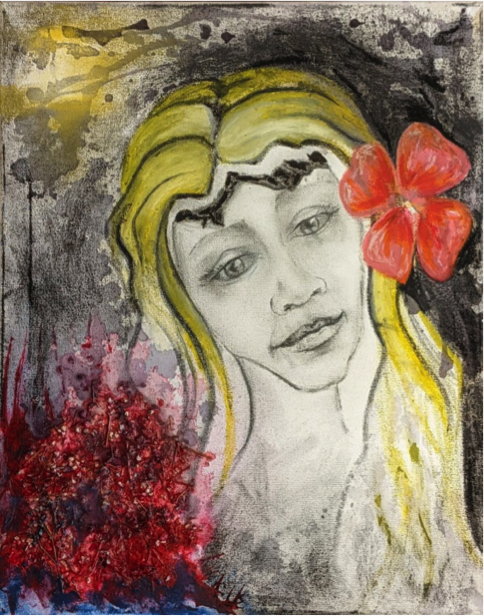 Material: paint, pastels, graphite, patience and love
"Are you okay?" I hear my dear ones say.
Emotions are raw, intense, and a little scary.
I know, I have lived with them,
That same, exact way.
There is no need to silently carry the fear, together we can face,
we can feel, we can hear.
Remember to see, remember to question.
Seek connection and be truly seen in return.
Find comfort in knowing, you are not alone. Have hope your art will continue to light your way home.
The Healing Process
Trauma chose me. Trauma chose me to feel it, to sit with it, to study it, and to learn how to heal it. Through personal and shared experiences, I have learned that healing is rarely a beautifully crafted poetic publication. Words, no matter how well composed do not remain intact when a nervous system fully activates and shuts down. When one feels completely numb to connection, curiosity, and inspiration. Yet, making art can connect us to thoughts and feelings when words cannot be articulated. Personally, I know what it is like to not have the words to describe my experiences. Art is my language. Art is how I find my voice. Art is how I learned to reconnect to my physical and psychological sensations, and how I learned to heal.
It is impossible to walk through this life and not feel the overwhelm of stress, trauma, or grief. There is no shame in your feelings or the lack of resources you may have been taught to rely on to allow you to express your feelings safely. There is no need to hurt others to make your pain heard. The situations that you may have faced, been born into, are not your fault. If you are feeling blocked, overwhelmed, or numb to the pleasures around you please know you do not have to forge your path alone. Art therapy can be a wonderful support and resource on your journey of healing and finding the beautifully authentic, you.
Artist Statement
Alyssa Gruett, MS, ATR-BC, LPC, RYT 200, is an artist, a board-certified art therapist, a licensed professional counselor, an art educator, a yoga teacher, and a student. She is also more than her titles and the letters after her name.  She is a friend collector, a barefooted wanderer, a somatic experiencing enthusiast, a provider of hope and a compassionate listener. Alyssa loves hugs, ceramic coffee mugs made with love and getting lost in nature with her family. She believes art can break us open, and act as a guiding star that teaches us about ourselves and the world around us.
In her professional life, she is the Director of the Expressive and Therapeutic Arts program at Marian University, in Fond du Lac, Wisconsin and is currently in the process of setting up a community-based art therapy studio in the Fox Valley area. If you are interested in learning more about art therapy, please feel free to contact her at alyssa@afieldofjoy.com or visit her website at afieldofjoy.art.