"Black Enough" Showcases Blackness Joyfully and Honestly
The myriad experiences that Black people have are enough to make a tapestry. Due to racism, respectability politics, and other factors, only certain experiences get acknowledged.
In the young adult fiction anthology Black Enough, sixteen Black young adult authors examine the ways contemporary Black teens exist with their Blackness. The anthology is edited by author Ibi Zoboi, who also contributes a story to the book.
As a whole, the anthology does a good job of including stories that show Black teens from different walks of life. In addition to race, its Black teen characters also embody different socioeconomic classes, genders (and gendered expectations), and sexual orientations. Authors like Jason Reynolds and Tracey Bapiste showcase distinct writing styles that make their stories appealing to read. While these aspects give the coming-of-age stories included in the anthology strong appeal, those hoping for stories outside contemporary settings may find themselves disappointed. Furthermore, the lack of content warnings for sensitive topics such as sexual assault, death, and self-harm may trigger some readers.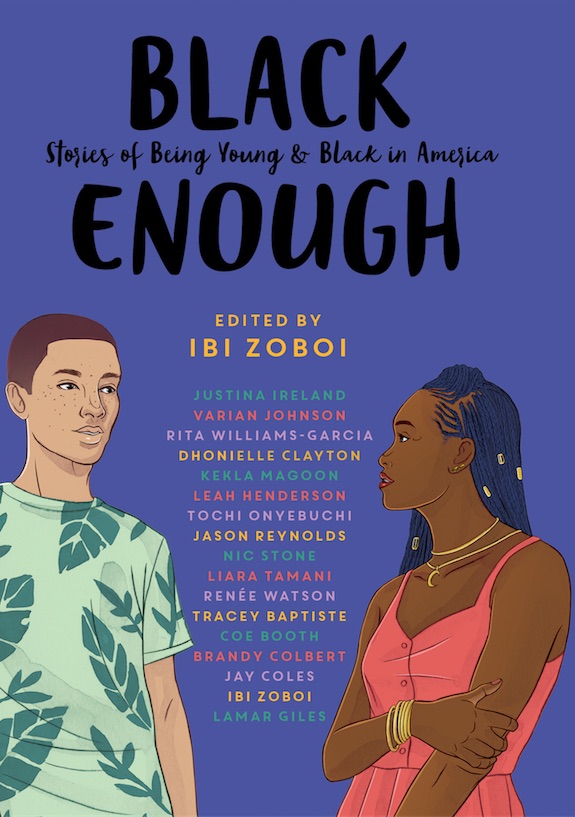 Nonetheless, several stories stand out in this anthology. "The Ingredients" by Jason Reynolds is a really fun conversation between Black boys walking home from the pool who are hungry for something to eat. The conversation flows naturally from their time at the pool to what kind of sandwich they dream of eating. The dialogue is true to life and filled with joy and vivid detail that will make you smile—and maybe crave a sandwich.
Another well-written story is Tochi Onyebuchi's "Samson and the Delilahs," which tells the story of a Nigerian American debate team student who ends up joining a heavy metal band. The internal struggle of the main character, Samson, who is torn between his family's cultural beliefs and his own interests, is palpable in his thoughts and dialogue. It was wonderful to see how Samson eventually learns to bridge the two.
A story that I personally resonated with is Nic Stone's "Into The Starlight," a romance between bougie, wealthy Black girl Mackenzie Davis and "ghetto" Black boy Mak. This story not only features honesty between these two as lovers but also takes class and respectability politics into account. It asks where the line between "bougie" and "ghetto" are, whether there is a gray area, and if the line should matter at all.
I also liked "Oreo" by Brandy Colbert, which tackles themes similar to "Into The Starlight." Instead of class and respectability politics, it discusses class in terms of how some Black Americans end up losing or literally moving away from their roots in their aspiration for the wealth and opportunities given to white people. The story gives the term "Oreo" a deeper meaning than the one I personally knew, which is a Black person with so-called white personal interests. It also shows how Black parents and other Black family members can influence each other for better or worse.
Many of the stories in this book show how some of the internal conflict that Black teens have about their Blackness can be due to what their family—whether a mother, father, aunt, or uncle—has taught them and how that clashes with personal interests and white American culture. Leah Henderson's "Warning: Color May Fade" has a Black female visual artist trying to break free from her parents' expectation that she attend law school while also staying true to her Blackness. "Kissing Sarah Snart" by Justina Ireland features a Black gay girl who is learning to revel in her queerness while dealing with her mom's mental health issues and her dad's respectability politics. Every story ends differently, but all of them include Black teens learning to just "be."
Given individual personal tastes, some stories will inevitably be more appealing than others, but this is the case with any anthology. Black Enough showcases and comments on Blackness in an authentic and thoughtful way. Although aimed at Black teens, Black adults can also take something from this collection of stories. If you need an introduction to some of the newer Black young adult authors out there, this book is a good place to start.
The Afro YA promotes black young adult authors and YA books with black characters, especially those that influence Pennington, an aspiring YA author who believes that black YA readers need diverse books, creators, and stories so that they don't have to search for their experiences like she did.
Latonya Pennington is a poet and freelance pop culture critic. Their freelance work can also be found at PRIDE, Wear Your Voice magazine, and Black Sci-fi. As a poet, they have been published in Fiyah Lit magazine, Scribes of Nyota, and Argot magazine among others.