Books to Give Black Readers This Holiday Season
This year, I've read so many great young adult and middle grade books by Black authors.
From sci-fi fantasy academic studies to queer contemporary romance, it has been a banner year for the Afro YA blog. These books have not only entertained and informed me but also have me excited for a new generation of stories by young Black authors.
Since the holidays are the opportune time to read, give, and receive books, here is a holiday gift guide inspired by some of my favorite reads from this year. Whether buying for yourself or someone else, these books are a must-read for anyone.
The Dark Fantastic: Race and the Imagination from Harry Potter to the Hunger Games by Ebony Elizabeth Thomas
Combining personal experience with academic study and pop culture, this book discusses how race influences the type of sci-fi and fantasy stories we are exposed to on and off the page. Aimed at fans, creators, and anyone in between, adult sci-fi fantasy enthusiasts are sure to love this. For those who enjoy and critique media such as the Harry Potter series or the television series The Vampire Dairies, this book might provide some insight.
Miles Morales: Spider-Man by Jason Reynolds
This middle grade book features the Miles Morales version of Spider-Man facing villainy that threatens his own neighborhood. Miles Morales struggles to balance his teenaged life with his superhero life, but soon finds them both colliding. It's fun, easy to jump into, and true to life. For fans of the animated film Spider-Man: Into the Spider-Verse or anyone looking for a superhero-themed novel, look no further than this book.
The Black Veins by Ashia Monet
The Black Veins follows the adventures of a Black bi teen named Blythe Fulton as she recruits a team of Elemental Guardians to help rescue her kidnapped family. It takes the camaraderie and awe of young adult fantasy from the 2000s and updates them for today's audience. With found family, humor, adventure, this is a refreshing urban fantasy read.
This Is Kind of an Epic Love Story by Kacen Callender
When aspiring filmmaker Nathan Bird meets his old friend Oliver "Jamie" Hernandez, he must try to rekindle their friendship while coming to terms with his romantic feelings for him. This is a gay romantic comedy that nods to the teen coming of age stories that came before it while forging its own hilarious and heartfelt path. For LGBTQ readers and rom-com lovers, this is a perfect gift.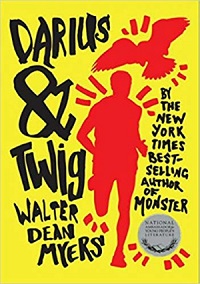 Darius & Twig by Walter Dean Myers
The late Walter Dean Myers was a trailblazer for contemporary children's and young adult literature. Darius & Twig tells the story of a writer and a runner trying to find and achieve their dreams. Their friendship sustains them as they face various obstacles in their way, and their story will surely inspire even more writers and readers.
Tristan Strong Punches a Hole in the Sky by Kwame Mbalia
Introducing a child or adult to African mythology and African American folklore isn't hard anymore thanks to this book. John Henry, Anansi, Brer Rabbit and more feature in this book to help young Tristan Strong save the world from an evil haint. Come for the engrossing and hilarious adventure and stay for the emotional and brave hero's journey of Tristan Strong.
The Afro YA promotes black young adult authors and YA books with black characters, especially those that influence Pennington, an aspiring YA author who believes that black YA readers need diverse books, creators, and stories so that they don't have to search for their experiences like she did.
Latonya Pennington is a poet and freelance pop culture critic. Their freelance work can also be found at PRIDE, Wear Your Voice magazine, and Black Sci-fi. As a poet, they have been published in Fiyah Lit magazine, Scribes of Nyota, and Argot magazine among others.