Constructing 'a Plausible Protagonist'
C. Kubasta
Constructing 'a Plausible Protagonist'
Riding home double, atop the handlebars, a dangling leg
catches spokes. Like the ticker-tape sounds
of cards flapping, like the sudden violence
done to childhood when you trust too much.
After, I remember
how we'd beg to skip church if
we went to Sunday school, if
we helped with the baby, if
we'd mow that afternoon, and the permission once given
felt like the hill rising up out of the ditch after
crossing the highway and before we walked
the half-mile home together in quiet, between
the treeline and the houses.
But, we were riding a bike & here we are walking.
And the point of this is an entirely conventional story, subtitled
"Virtue Rewarded" or "Vice Punished," as all stories
could be subtitled. Once when retelling
the story of the bike accident, how the bike became airborne, spiraling
over me, and the soft landing of pine needles and sugar sand, I remembered
the boy jokes you'd tell me; where the punchline
always referenced my self and my kin.
Depression may be just a poorly told tale. And when I went down
into the needles & sand, you arced
over me, the back half of the bike propelled you so far forward –
and we were only lucky that no one was worse hurt, no splintered bone, no
speeding back to church to rouse the parents from the sermon, the slumber, the complacence,
to sound the alarm. When I tell the story now, all I remember is that I loved you,
and then later, I didn't. In the sandbox
we'd spend summer hours building canals and tunnels and bridges
and running the garden hose, creating worlds beyond any of today's simulations;
the time we found a bag of cement in the barn & decided to make it all permanent
and after transplanting minnows and crawfish from the river, we came back
the next morning and they were all dead. I sort my poems into piles, and this pile is called:
Poems Only To Be Read To Strangers.
Reprinted from All Beautiful & Useless (BlazeVOX, 2015).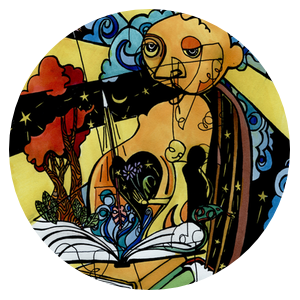 BMP Celebrates National Poetry Month 2016
If "love calls us to the things of this world," then poetry too can call us to think about challenging questions, difficult situations, and social justice, implicating and engaging the reader with the world we live in, in the hope that this engagement is a step toward wrestling with our better selves.