Eintou and Atari: In Conversation
by Jennifer Morales
I recently learned of an African American poetic form called the eintou from a substack post by writer, editor, and yogi Cosima Smith and it's been talking to me since. An eintou is a 7-line poem with a specific number of syllables in each line: 2-4-6-8-6-4-2.
Smith offered this example:
The pearl
holding wisdom
spoken from the sweet tongues
Wet with Hunger, Red with Power,
of poets met in verse,
and verse alone,
is home.
—Cosima Smith
That reminded me of a form I invented in 2019, called atari—Japanese for "neighborhood" or "in the vicinity of," or "the surroundings"—and introduced at one of the last in-person writing workshops I taught before the pandemic shut that kind of life down. The atari is 15 words forming two interconnected poetic lines, a verb joining them in the middle. Three words coming from the left and three words coming from the right develop two neighboring lines. The verb connects the lines in the middle, then they part again by way of four more words each.
Smith's eintou example reminded me of the atari, with that strong middle line of wet hunger and red power cinching two ends of a poetic conversation (the "sweet tongues", the "poets met in verse").
Here are a couple of ataris I wrote for the 2023 National Poetry Month (I highlighted the two lines in different colors, for ease of noticing the structure, but color isn't necessarily part of it).
I encourage you to write your own. Remember that the line descending from the left and the one from the right should be in conversation with each other. It can be helpful to come up with an evocative verb for that single middle position, then build out the two descending lines from there. Once composed, the poem's two lines can be read however you'd like, but I see it as two lines running vertically, reading the left one first, top to bottom, then the right one, top to bottom.
And, yes, Gen Xers: I was indeed inspired to create this form by the blocky alien shapes of the 1978 video game Space Invaders. Once I learned what the word atari means in Japanese, the form basically created itself, as I reflected on how two neighboring lines can entangle, complicate, and enrich each other.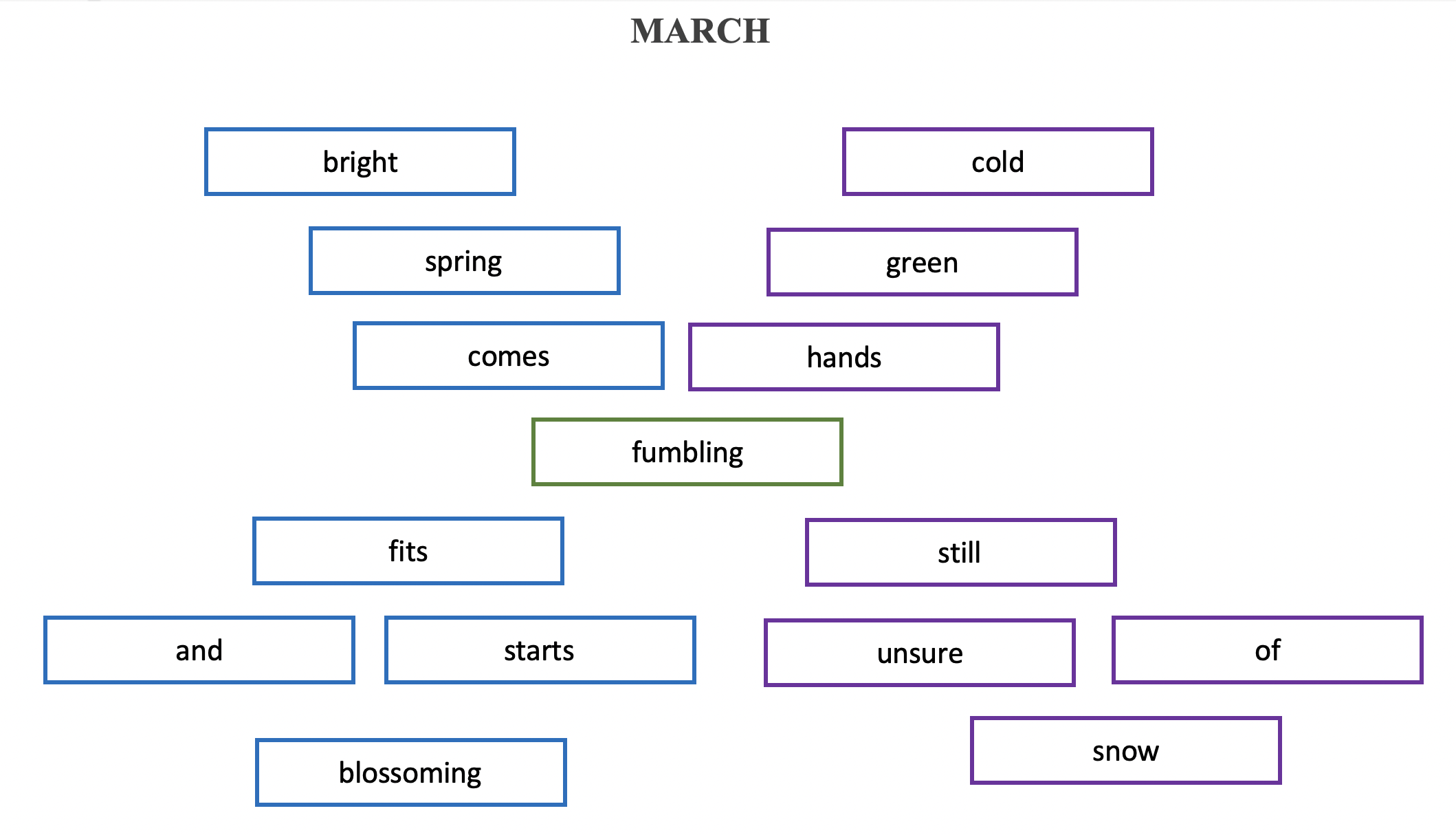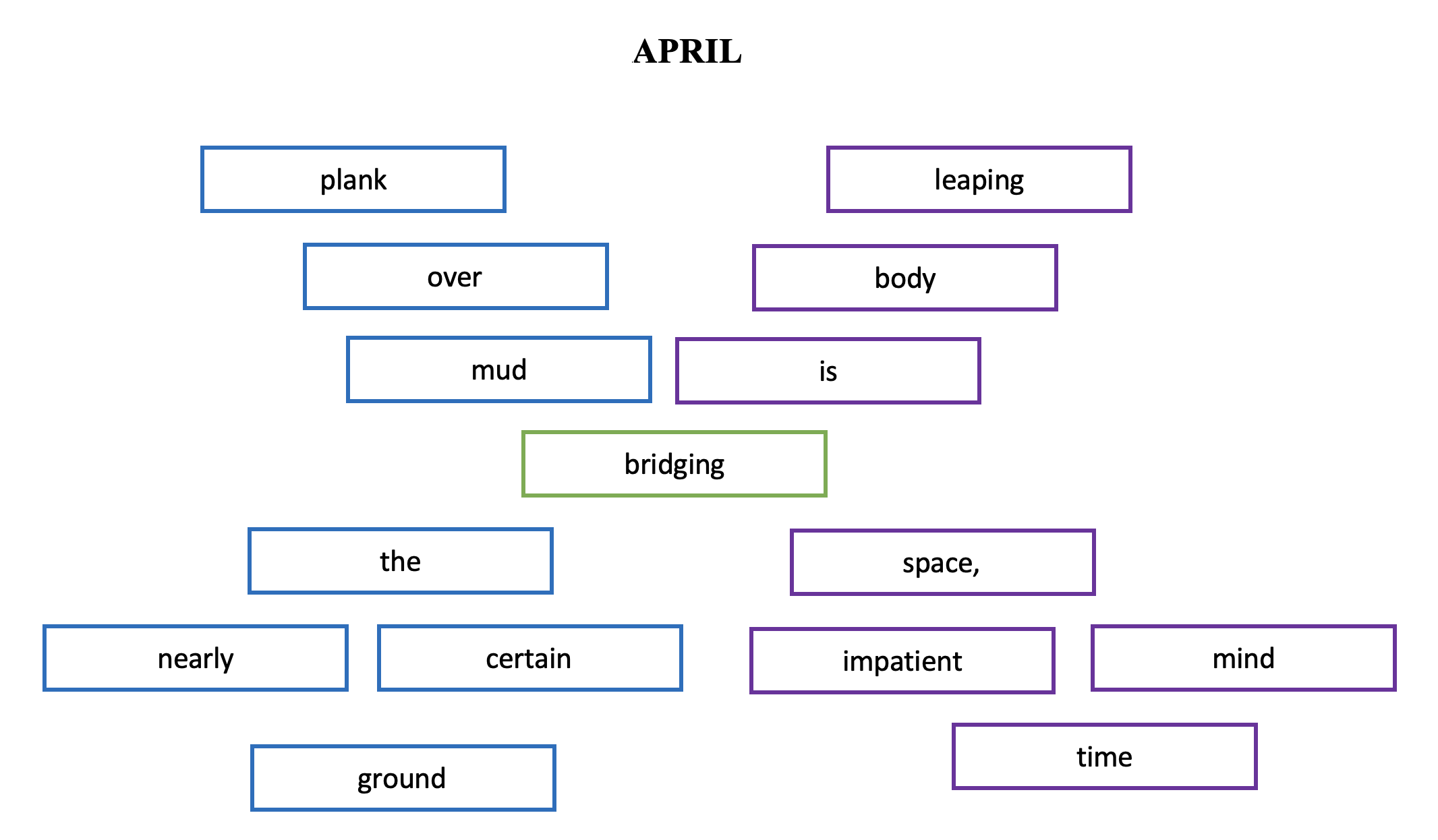 About Jennifer Morales
Jennifer Morales is the second-place winner of the 2020 Wisconsin People & Ideas Fiction Contest. She is a poet, fiction writer, and performance artist based in rural Wisconsin. Morales lived in Milwaukee for over twenty years, and served as the city's first elected Latinx school board member. She's also been a mom, a doula, a Sunday School teacher, a grantwriter, and an editor for academic and artistic clients around the world. Her short story collection, Meet Me Halfway: Milwaukee Stories (UW Press, 2015), was Wisconsin Center for the Book's 2016 "Book of the Year." Recent publications include "Cousins," a short story in Milwaukee Noir  and "The Boy Without a Bike" in Cutting Edge: New Stories of Mystery and Crime by Women Writers, edited by Joyce Carol Oates. Morales is the president of the board of the Driftless Writing Center in Viroqua.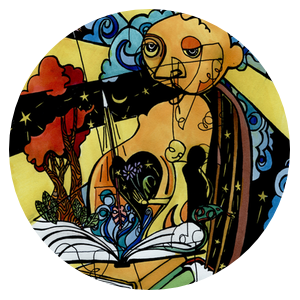 BMP Celebrates National Poetry Month
Happy National Poetry Month! For poets and poetry lovers—and perhaps for those who love poets—this is a special time. At Brain Mill Press, we like to celebrate all month long by sharing featured poets, and with our fee-free contest. This year, we're thinking about poetry cycles, poems that speak to each other, forms that build on each other (like crowns), and the ways a poem can be a scaffold or foundation for other poems. Our words are often in response to other poems, and our own body of work is often an ongoing conversation. We speak to each other, with ourselves, and sometimes into the void—hoping someone will answer back.
Top photo by bady abbas on Unsplash