Favorite YA Comfort Reads
Everyone likes to reread certain books for various reasons, including comfort. There is nothing like rediscovering an old favorite book when you need some relief from bad times.
In the young adult genre, there are a variety of books that can become comfort reads depending on the reader's tastes.
For me personally, I like both wholesome and low-stress reads as well as books that feature difficult subject matter in creative ways. From coming of age with poetry to becoming a magical girl in college, here are my favorite young adult comfort reads by Black authors.
The Poet X tells the story of Xiomara, an Afro-Latina teen who feels suffocated by her mother's strict religious parenting and frustrated by the way the world perceives her as a brown girl with burgeoning sexuality. Initially, she writes down her thoughts in a secret poetry journal to have a safe place to express herself without judgment. Eventually, she joins the school's poetry club and gradually learns to express herself openly.
Afro-Dominican poet Elizabeth Acevedo deeply moved me with this book. I felt I was seeing some of my younger self in these pages as Xiomara wrote poems about herself and the world around her. Since the novel is in verse, I also got to see Xiomara's thoughts on things that would influence her poetry, such as other poets and music. This book is a reminder to never lose your creative voice, even when others try to silence it.
In addition to being one of the all too few YA books that feature a college-aged protagonist, this book also features a Black biromantic asexual lead named Alice. During an eventful summer, Alice must figure out what she wants to study in college while dealing with a crush on library assistant Takumi and the changes in her friendships with Feenie and Ryan.
I really liked how some of this book focuses on a "coming-to-terms" rather than a coming out narrative around sexuality, because you can still have some complicated feelings about your orientation even after coming out to yourself and others. I also like how love is examined through different relationships and things besides romance, and how Alice unabashedly indulges in her love of pop culture and food.
Told from the dual viewpoints of an African American queer female teen named Mabel and a Trinidadian female teen named Audre, this book tells the story of two girls finding comfort in each other when each of them experiences bad events. I originally borrowed this book from the library a year or so ago, but I was so moved that I eventually bought my own copy.
This book is unabashedly Black and queer, featuring Mabel and Audre extolling the virtues of things ranging from Whitney Houston to Afro-Caribbean herbal healing. They also live their lives regardless of what others deem respectable. One line from this book sticks with me: "The stars and the blackness between them is the melanin in my skin."
Nothing says comfort like a book set in a bookstore. This novel tells the story of Black gay comic book geek Wes, whose summer plan of working at the used bookstore Once Upon a Page are interrupted by looming adulthood. Now Wes has to figure out how to balance his crush on his best friend, Nico Alvarez; helping out with his big brother's wedding planning; and saving his favorite bookstore before the end of the summer.
This book felt like the summer vacation bookstore version of the teen film Empire Records. You've got a quirky cast of characters, a homey atmosphere in the bookstore, and a coming-of-age story that is fun and poignant. If Once Upon a Page were a real bookstore, I would totally visit it.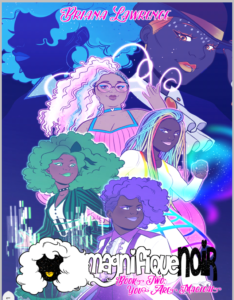 The first book in Briana Lawrence's Magnifique Noir series tells the story of college student and gamer girl Bree Danvers. After having a few run-ins with monsters and a mysterious magical girl named Galactic Purple, she is invited to become a member of the magical girl team Magnifique Noir.
This visual novel combines illustrations, mini comics, and text to tell a colorful, cute, and down-to-earth magical girl story with an all-Black and queer magical girl team. In between battling monsters with frosted cupcake attacks and 8-bit video game graphics, the women also tackle things like street harassment, dysfunctional families, and misogynoir. Throughout it all, these Black women support each other and help each other remember that they are magical.
The Afro YA promotes black young adult authors and YA books with black characters, especially those that influence Pennington, an aspiring YA author who believes that black YA readers need diverse books, creators, and stories so that they don't have to search for their experiences like she did.
Latonya Pennington is a poet and freelance pop culture critic. Their freelance work can also be found at PRIDE, Wear Your Voice magazine, and Black Sci-fi. As a poet, they have been published in Fiyah Lit magazine, Scribes of Nyota, and Argot magazine among others.