"Opposite of Always" Teaches How to Value Love through Time Travel
Most romance stories usually follow the same formula. Boy meets girl. Boy and girl fall in love. Boy and girl have some misunderstandings but somehow manage to declare their love for each other and live happily ever after.
In Justin A. Reynolds's Opposite of Always, this formula gets a little more complicated thanks to a four-month time loop.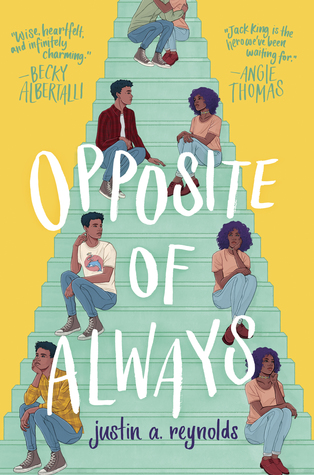 Jack Ellison King is an African American teen who never quite succeeds at important milestones. When he meets Kate on the steps of a house party, he's hoping to somehow succeed at romance. Then Kate tragically dies of an illness, and Jack is sent back in time to the day they met. Given the second of many chances, Jack strives to prevent Kate's death while weighing the consequences of his choices and the people he chooses to be with.
In addition to Jack himself, I also enjoyed the people he's surrounded by, including his parents, his best friends, Franny and Jillian, and sometimes Kate herself. Jack's parents are really good parents who want Jack to be happy while expecting him to honor his commitments. Franny and Jillian are dating each other and still manage to be good friends to Jack, setting a good example for him. Meanwhile, Kate is a really sweet love interest who can't dance, wants to be an architect, and has a caring and protective family.
All of these characters really enrich the romance, comedy, and drama in the storyline. The farther you get into Jack's attempts to save Kate, the more you learn to appreciate Jack and Kate's romance and the higher the stakes become when it comes to his other relationships. As a result, you want Jack to succeed, but you also want Jack's friends and family to be happy. A personal favorite subplot involves Jack trying to help Franny mend things with his absent father, Mr. Hogan.
Though I enjoyed the book, there were a few flaws that I couldn't help but notice. One involves the characterization of Kate, who is not a stick-figure love interest but is not as fleshed out as I would have liked her to be. As much as I appreciated reading a romantic dramedy with two Black leads, I wish we had a chance to see more of Kate's character in terms of her personal interests and skills.
I had mixed feelings about the time loop as well. This might have been due to my limited exposure to time travel in pop culture, but I was expecting the time loop to be shown differently than it was. As a result, I was left a little disappointed by it at the end of the book. Yet I was willing to overlook a plot hole with the time loop when I realized that the author was doing his best to balance two different fiction genres in the same story.
All in all, Opposite of Always is an entertaining coming-of-age romantic dramedy that teaches the value of small moments and decisions. Love from a partner, a friend, or a family member matters, and it is important to cherish all the love that comes your way for as long as you can. The book was refreshing and enjoyable, and I hope its movie adaptation will be, too. 
The Afro YA promotes black young adult authors and YA books with black characters, especially those that influence Pennington, an aspiring YA author who believes that black YA readers need diverse books, creators, and stories so that they don't have to search for their experiences like she did.
Latonya Pennington is a poet and freelance pop culture critic. Their freelance work can also be found at PRIDE, Wear Your Voice magazine, and Black Sci-fi. As a poet, they have been published in Fiyah Lit magazine, Scribes of Nyota, and Argot magazine among others.