"Tristan Strong Destroys the World" Is a Magical Tale of Intergenerational Trauma
Kwame Mbalia's Tristan Strong Destroys the World begins one month after the events of the first book. Tristan Strong and the mythical world of Alke are traumatized—but their battles are far from over.
When folk hero John Henry is attacked by a mysterious enemy and Tristan's grandmother is kidnapped, Tristan must journey to Alke once more to save what's left of the realm before its stories are lost forever.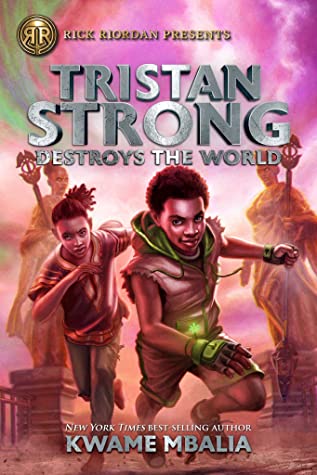 One of the things that immediately grabbed my attention about this novel is the fact that Tristan is traumatized by his previous adventures. He has nightmares and distracted thoughts even when he needs to go save the world of Alke again. This is compelling, because I haven't read a lot of books that show the effects of a grand yet dangerous adventure on a hero's psyche. In most sequels, the hero seems perfectly fine emotionally and is ready to tackle the next adventure. It is wonderful for young readers to see that it is okay not to be okay, even when you're a hero.
In addition, Tristan's trauma allows him to better empathize with the residents of Alke, the world of beings from African and African American myths and folktales. Alke has literal scars and emotional ones, and things only get worse for it as the plot thickens. Yet there is also beauty, life, and history in Alke, and to see Tristan search for and attempt to protect those aspects of the world is poignant and emotional. By telling and collecting stories of Alke's history, Tristan is able to put his skills as an "Ananseem" to good use in order to get to the heart of Alke's current problems.
Part of Alke's history lies within characters old and new. This second book in the Tristan Strong series sees the return of spunky doll Gum Baby and crafty trickster god Anansi (albeit in phone form), but it also introduces new characters like the mischievous and mouthy boy Junior. The introduction of new African and Black women characters in this book makes up for the lack of them in the first one. There is adventurous folk hero Keelboat Annie, resourceful juke joint owner Lady Night, and regal goddess Mami Wata. And I would be remiss to fail to note that Tristan's grandmother, Nana, also has a larger role in this book as Tristan's source of strength and inspiration.
Alke's history consists of elements rooted in African American history and culture. These elements range from the painful and ugly to the lively and the resilient, embodied in everything from the new antagonist, DJ Culture Vulture, to the jollof rice served at Lady Night's juke joint. A personal favorite of mine is the SPB, the portable smartphone version of Alke's Story Box and the new home for trickster god Anansi. It was fun to see more of the phone in action after the events of the first book, especially through the new "Diaspor-app" that allows Tristan to see how Alke's stories are connected to the Diapora.
Combining Alke's history, Tristan's trauma, and Alke's current issues, Tristan Strong Destroys the World offers a compelling tale of intergenerational trauma and recovery. Whether it be through family, history, or a bit of both, many African Americans deal with intergenerational trauma in one way or other. Not only is this story a good way to teach the concept to younger readers, but older readers can also learn something from it as well.
Tristan Strong Destroys the World is a powerful sequel to its predecessor. There is more magic, action, and stories to learn from than ever before. If the ending is any indication, things are going to be even more epic in the next book of the trilogy. For now, though, readers who enjoyed Tristan Strong's first adventure can join him once more and have their world rocked.
The Afro YA promotes black young adult authors and YA books with black characters, especially those that influence Pennington, an aspiring YA author who believes that black YA readers need diverse books, creators, and stories so that they don't have to search for their experiences like she did.
Latonya Pennington is a poet and freelance pop culture critic. Their freelance work can also be found at PRIDE, Wear Your Voice magazine, and Black Sci-fi. As a poet, they have been published in Fiyah Lit magazine, Scribes of Nyota, and Argot magazine among others.