Tristan Strong Will Sweep You Away with Epic Adventure and African Folklore
African mythology and folklore aren't exactly common knowledge. When you think of gods and goddesses, it's usually Greek and Norse gods like Zeus and Thor that come to mind.
Now characters such as High John the Conqueror and Anansi, along with their stories, are being introduced to a new generation through Kwame Mbalia's dynamic middle grade fantasy Tristan Strong Punches a Hole in the Sky. The book will be released on October 15.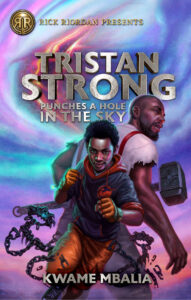 Tristan Strong is a twelve-year-old boy grieving the loss of his best friend, Eddie, and smarting from being defeated in his first boxing match. While visiting his grandparents' farm in Alabama, he accidentally unleashes an evil haint and creates a hole between the real world and a magical world of African American folk heroes and West African gods. Now he must work together with them and undergo an epic quest to retrieve Anansi's story box to save the world.
One of the best aspects of this book is how accessible the folktale and mythology characters are. These characters are modernized without losing their roots and inspire awe with their strength, humor, and sprinkles of humanity. One of my personal favorites is the character Gum Baby, who was originally a doll the trickster Anansi made to capture a fairy. Although she is commonly known by the sometimes derogatory term "Tar Baby," the author makes her a fully fleshed-out character who is spunky, hilarious, and a clever fighter.
Another notable aspect of the book is Tristan Strong, the protagonist. Having been exposed to so many images of Black boys and men who are pressured to be hypermasculine at all times, I was pleasantly surprised to see Tristan Strong be a bit insecure and emotionally vulnerable. It is heartwarming to see him grow as a character and come into his own as a hero and as a person. One of my favorite parts of his character arc is Tristan slowly facing his fear of heights. Initially, he screams really loudly at being in the air, but eventually he comes to realize there are things more important than his fear.
In addition to Tristan himself, his friendship with Eddie, another Black boy, is wonderful. Even though Eddie has passed away, he lives on in a journal of stories and memories that become increasingly precious to Tristan. Tristan's flashbacks to good and bad times with Eddie are a key part of Tristan's coming to terms with his grief and his journey as a hero.
In fact, Eddie, Tristan, and Gum Baby are just a few of the amazing cast of characters in this book. There is also Ayanna, a Black girl who has the makings of a strong leader and fighter. Another Black girl, Thandiwe, is a fierce warrior who reminded me a lot of Dora Miljae from the Black Panther comic books. Although I would have liked to see more Black female folklore and mythical characters in addition to Gum Baby, I did enjoy seeing two of them embody Virginia Hamilton's The People Could Fly.
In addition to the characters, the world building is also very well done. Although there is a lot to keep up with without a map or index of places, I found the author's decision to make the world of the African folk heroes and gods parallel to the real world compelling, especially given how that world has allegorical references to postcolonialism and slavery. Some parts of it are dark, but it is subtle enough that middle grade readers won't be terrified. Also, the world building as it applies to the book's main antagonist is brilliant.
All in all, Tristan Strong Punches a Hole in the Sky is a dazzling adventure that will sweep you away. Reluctant middle-grade readers will tear through the book's four hundred pages for the action and magic, while older readers will appreciate the book's in-depth world building. It is a grand start to a new series and a perfect introduction to African myth and folklore.
The Afro YA promotes black young adult authors and YA books with black characters, especially those that influence Pennington, an aspiring YA author who believes that black YA readers need diverse books, creators, and stories so that they don't have to search for their experiences like she did.
Latonya Pennington is a poet and freelance pop culture critic. Their freelance work can also be found at PRIDE, Wear Your Voice magazine, and Black Sci-fi. As a poet, they have been published in Fiyah Lit magazine, Scribes of Nyota, and Argot magazine among others.