Poetry Month Spotlight
Kimberly Blaeser on the work of Lance Henson
Expatriate Cheyenne writer Lance Henson's new work in Dead Zone et autres textes has the same powerful slight lines, imagistic suggestiveness, and resistance vision of his earlier work.
The poem "secret" claims the kind of revelation I have always discovered in Henson's work: "the half blindness that allowed you to see further / words forged in motions" (24). The back cover text "places" Henson and his stance with this description:
somewhere between rage and freedom
I am sitting in the ashes of a dream
singing. . .
Finally, one of unnamed poems in the collection offers the kind of straight-forward societal indictment that also characterizes his work:
america
america
no longer a theme park
now a killing field
if you are
………………the other. . . . (54)
A member of the Cheyenne Dog Soldier Warrior Society, veteran, Native American activist, AIM member, and member of the Native American Church, Henson also holds an MFA from University of Tulsa and has worked as poet-in-residence in over 800 schools in the United States and Europe. Since his first volume of poetry, Keeper of Arms, was released in 1971, he has published twenty-eight chapbooks or volumes of poetry which have been translated into twenty-five languages.
Throughout his oeuvre, Henson presents his sparse uninflected poems in lower case, without capitalization, and with ellipses as his main form of punctuation. His poems often weave together images of the external landscapes with spiritual terrain reflecting on their porous interconnections. They also offer commentary on historical and contemporary failings of the U.S. government and on the broader capitalistic colonizing forces at work in the world. Henson's comments in "The Whirlwind is a Mirror" shed light on his aesthetic when he claims, "All poems are prayers when they work," and "Poetry is revolutionary. It must be to survive." About his preference for the short poem, he notes: "I think brevity is one way to acknowledge strength and one way to acknowledge and pay homage to the Great Silence we came out of." Indeed, Henson's poetry may be crafted to a large extent of prayer, revolution, and great silences.
A poem like "strong heart song" that gives title to his 1997 collection Strong Heart Song: Lines From a Revolutionary Text seems to contain all of these elements:
nadors do mi uts e mghon bach ni tseheskotseo
ehmin
i will walk on the ashes of the earth
singing (iii)
By opening the poem first in Cheyenne, the bilingual Henson enacts a revolutionary response to the colonization of language. Then, with the phrase "the ashes of earth" he implies something about the fleetingness of physical reality and perhaps offers a warning about the inevitable destructive effects of contemporary human actions. Still the poet will proceed "singing," which in the larger context of Native ceremonial tradition is often the equivalent of prayer. Both verbally and visually the poem is small — much is left unspoken; much is contained in the implied silence.
Perhaps the finest gesture in Henson to silence comes in the poem "celebration" which opens with "cold light / at the edge / of words" and closes with this word picture:
in a portrait
a woman is
holding her
apron
catching the
snow (Selected Poems, 10).
The poem accumulates meaning from the idea of an artist's creating a picture/portrait, the vision of the woman "catching" snow (or perhaps manna), and the idea of her making of herself a vessel — attempting to gather or hold that which will only melt as snow or dissipate as fleeting knowledge. Such, of course, is always the poets' futile quest, particularly in the light of injustice.
It is as well Henson's quest in Dead Zone. In the poem "Kofi," he recognizes that Sisyphus-like task of poets to build with language even as we already acknowledge its inadequacy:
now your words have entered
a frontier known only to poets
in our collective
book
of the wind. . . . (70)
In this new book, as in all that came before, the success of Henson's poetry stems partly from its eloquent portrait of its own fleeting reality.
About Kimberly Blaeser
Kimberly Blaeser, writer, photographer, and scholar, is the author of three poetry collections—most recently Apprenticed to Justice; and editor of Traces in Blood, Bone, and Stone: Contemporary Ojibwe Poetry. She served as Wisconsin Poet Laureate for 2015-16. Blaeser is Anishinaabe and grew up on White Earth Reservation. A Professor of English and Indigenous Studies at the University of Wisconsin—Milwaukee, Blaeser is also on faculty for the Institute of American Indian Arts low residency MFA program in Santa Fe. Her photographs, picto-poems, and ekphrastic poetry have been featured in various venues including the exhibits "Ancient Light" and "Visualizing Sovereignty." Her fourth collection of poetry, Copper Yearning, will be published by Holy Cow! Press in fall 2019.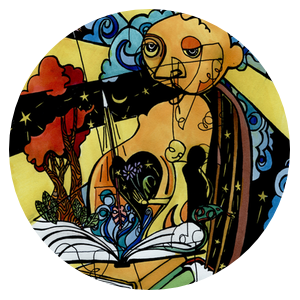 BMP Celebrates National Poetry Month — Break Poetry Open
For this year's National Poetry Month, Brain Mill Press & Voices want to add to your #TBR pile, sing siren songs of unsung heroes, and signal boost living poets we should be reading more. By the end of the month, we hope you will have acquired 30+ new books of poetry and that they continue to multiply in the darkness of your library. Explore new voices & new forms — re-read some old favorites — play if you liked this poet, you'll like... the old-fashioned way, algorithm-free — just poetry lovers talking to poetry lovers, as the Universe intended. Happy #NaPoMo2019 from Brain Mill Press.