Wrappers
You're twelve and in love with the boy next door
only you don't quite know it yet.
That tingle between your legs
is something you fumble for while your sister sleeps,
while you are awake and dreaming.
You play married, practice that first boy kiss
against your pillow, hide pennies under
your tongue to imagine his taste.
The next day you're doing laps in the pool
and suddenly blood is everywhere.
You check the water for sharks.
You dead man float but no one comes
to save you. This is how you learn
you are a woman: a pool of blood,
underwear packed with toilet paper,
a grocery bag handed over without words,
filled with pads and belts, too many loose ends.
You grow into this, the best you know how.
Follow package instructions, listen in the halls,
peel tampons like popsicles,
meet a proper boy who peels you like a popsicle,
makes you bleed on his gold shag rug.
You think about buying protection, being protected,
being exposed like a grifter.
Later, you're in college, geography, discussing faults
and shields, so you tell the next guy over you think
you are pregnant. You are telling the wrong man,
he is not the one who should help you,
he is as close as you will get. Your friends take you
for a drive so you can cramp and bleed again.
After this, the blood never stops flowing.
You've seen bad guys on Starsky and Hutch
die from less of a loss and here you are,
day after day,
chucking off soaked undies in the bathroom at the mall.
This is no cycle, this is two straight lines
off the horizon, this is the community blood bank,
this is thirty years of looking between your legs
and you too dumb to move.
You will bleed through two weddings, one divorce,
twelve intrauterine inseminations,
twenty-five pregnant friends,
half a dozen bloated tirades on the way to the movies,
the gas station, through the lipstick aisle at Sears,
a thousand reasons to reject science or god or both
until you're done,
done in,
chewed up like a piece of sugarless gum,
bled out like an old brake line,
scooped out like a pumpkin,
all your insides dumped, bagged, tied with a twist,
taken to the curb,
your outside shell washed clean
and grinning.
About Cathryn Cofell
Cathryn Cofell, Appleton, has birthed Sister Satellite (Cowfeather Press), six chapbooks, and Lip, a CD blending her poetry with the music of Obvious Dog. She believes the arts are crucial for positive health and advocates for an abundance of it, as a member of the WI Poet Laureate Commission and WI Academy of Sciences, Arts & Letters, and as a volunteer with the Fox Cities Book Festival, the Wisconsin Fellowship of Poets, and the Appleton Poetry Rocks Reading Series.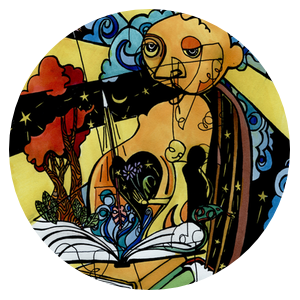 BMP Celebrates National Poetry Month 2016
If "love calls us to the things of this world," then poetry too can call us to think about challenging questions, difficult situations, and social justice, implicating and engaging the reader with the world we live in, in the hope that this engagement is a step toward wrestling with our better selves.