In October of 2004, my mom picked me up from my college dorm and drove me about twenty miles up Interstate 79 to Edinboro, Pennsylvania, where we pulled into one of those perfect, Desperate Housewives-type neighborhoods with the immaculate lawns and minimalist traditional houses just a few inches too close together.
We parked in the street in front of one of these houses; the driveway was too packed with minivans and station wagons for us to fit. Also, I got the impression that my mom didn't want to be trapped. If she felt the need to flee, street parking would enable us to up and go without any awkward car shuffling.
My mom had brought along four grocery store bags filled with photographs and memorabilia from our recent vacation to England, and we hauled them up the walk to the front door, which was opened pre-knock by a smiling woman in a red tracksuit and white athletic socks. Her grip on the doorframe made it look as if she'd slid to a stop Risky Business-style.
"Ginny! Hey girl!" this woman said to my mom, who was not a "Hey girl!" type of woman. She turned to me and smiled. "You must be Mike. I'm Mrs. Costa. Come on in!"
We followed her into her perfect home. The color scheme was light blue and cream, and the walls were adorned with photographs of a perfect family unit. She advised us to remove our shoes and led us to a door on the far side of her open-plan kitchen. We descended a set of stairs and emerged into Scrapbooking Narnia.
My mom and I gazed up at the shelf-lined walls like Belle in the Beast's library, dazzled by rows upon rows of glittering books, sticker packs, paper sets, and collections of colorfully gripped razor blades arrayed on surgical trays.
Rows of tables were arranged in the center of the basement, accessorized with clear plastic discard bins hanging from the edges. About a dozen middle-aged women were seated at the tables, gabbing and crafting like Santa's elves while sipping wine coolers.
We introduced ourselves and joined them at the tables, where Mrs. Costa proceeded to take us through the basics of scrapbooking. She started with the essentials: tape runners, corner cutters, die-cuts, stickers, journal boxes, paper, paper, more paper, and of course, scrapbooks. Then she showed us how to add pages to scrapbooks and how to tape paper onto the pages. We learned that nearly any mistake could be corrected with the right combination of patience, tape, and the magical fix-it tool (which is basically a piece of plastic – rounded on one end and pointed on the other – that allows for the scraping up and pressing down of tape and stickers). She showed us the best way to edit photos, both for page aesthetics and for the photos themselves, enabling us to crop bad angles, cover unwanted rumples with stickers, and make our complexions dazzling with the right color of mat.
Thus instructed, we got to work. As we did, Mrs. Costa brought my mom a wine cooler and me a Diet Coke, and we casually chatted with the other scrapbookers. Mrs. Costa herself didn't scrapbook; instead she bopped around, helping to cut photos, choose stickers, cover pages in protective plastic, or offer any other scrapbooking assist. The majority of the other ladies were working on books about genealogy or Disney World, and generously provided us with tips and examples.
Though the typical scrapbook looks like it's constructed page by page, the reality is that a lot of work should be done before the first photo is placed. Photos should be organized into the order that they will appear in the book, then grouped by potential page, then cropped. Paper for backgrounds needs to be pre-chosen, particularly if you plan on matting your photos before actually putting them into the book. (You should.) Supporting materials – brochures, menus, stickers, journal boxes, etc. – need to be chosen ahead of time and also cropped and/or shaped.
This all felt very overwhelming the first time. My mom and I were slow, careful croppers. We obsessed over potential color schemes, eventually choosing pink and green to accentuate the colors we'd experienced in English gardens. We looked around at the other scrapbookers' immaculate pages, so vivid that I could practically feel It's a Small World's artificial river lapping at our feet, and felt jealous and inadequate.
Despite the friendly atmosphere, I felt out of place and uncomfortable. On the one hand, I was a nineteen-year-old boy in a group of scrapbooking forty-plus women. An obviously gay teenager in the heart of Republican Americana. What could be more traditional than women gathered around the crafting table? And there I was, an interloper, the opposite of traditional, bringing the stain of maleness (the double stain of male-on-maleness) to this dainty female gathering.
On the other hand, scrapbooking represented everything that a formative gay male was supposed to reject. Online dating sites were filled with guys looking for masculine guys only. Gays were supposed to be breaking stereotypes, doing manly things, not picking out stickers with our moms.
But as we cut pictures and listened to stories about football games, unbelievable Disney deals, and local politics, a Zen-like relaxation overtook me. Every group of matted photos was an individual memory, curated by my mother and me for an audience of ourselves.
We went back the next week, and as we progressed from cropping and organizing to placing background paper and arranging our pages, my feelings of relaxation turned to subtle joy. Part of this was the simple pleasure of being in a group whose only connection was shared creative expression.
But more than that, the joy began to flow from the scrapbook itself. It started as a stirring in my stomach, a giddy excitement achieved by trimming what had mostly been a lousy day trip to Dover into a beautiful one-page ode to the city's famous white cliffs. Eventually every piece of our trip fit into the book like a piece of our own intricate jigsaw.
That giddiness grew as we found the perfect places to stick the menus, brochures, business cards, and even coins that we'd squirreled away on our trip. Scrapbooking solved some sort of organizational compulsion that I didn't even know I'd possessed, and the ability to make the useless useful was intoxicating.
When I look at that English scrapbook now, it's hard to see beyond the book's flaws. It is a twelve-inch-by-twelve-inch pale green canvas book with a simple metal plaque adorning the front cover. The plaque consists of reliefs of dainty pink and yellow flowers. Very English. It opens to a garish title page, dominated by laser-cut, doily-like stick-on letters spelling out "ENGLAND" across the top. Beneath, a cutout from a brochure showing a rail map of Great Britain is sandwiched between bright red words – "Mike" on the left and "Mom" on the right. All of this lay atop a Pepto-pink background and surrounded by stickers of airplanes, flowers, hedgehogs, and, strangely, a giant watermill.
Our stickers are placed unevenly, we failed to mat about half of the photos, and we stuck our journal boxes in the book before we did the actual journaling, which forced us to squeeze too much or stretch too little text within them.
Despite those flaws, I have nothing but appreciation for the book, and that's because of what isn't physically within it. The invisible feelings and details that aren't on the pages but nevertheless still live inside the scrapbook. There is something about scrapbooking a moment that traps the events and details around that point in time. I don't know whether or not those details are the truth or in fact just another facet of the scrapbooking illusion, but every page still takes me back into who I was then.
The first picture in this first scrapbook is of me, looking relaxed and comfortable in my own skin, wearing sunglasses and leaning against the doorframe of the hotel my mom and I stayed at for our first few days in England. The picture itself isn't that significant outside of enabling us to remember the name of The Ridgemount Hotel. Instead, the picture is significant because the person in the photo didn't exist.
At nineteen I was horribly self-conscious. I was tormented by a combination the fear that came with growing up gay in a rural area and the insecurity of an effeminate, formerly obese teenager. I wasn't someone who could "pass" for straight, and I wasn't comfortable in my own skin.
But this picture on the first page is the first I can recall of myself looking relaxed and at ease. I didn't even realize that I'd felt so different until we began creating the scrapbook and I saw myself in those photographs and relived the memories.
Scrapbooking revealed to me that I'd felt like my real, true self in London. This made sense – it was a place where I could be myself in public without attracting unwanted attention. Later, I would move to London for this very reason.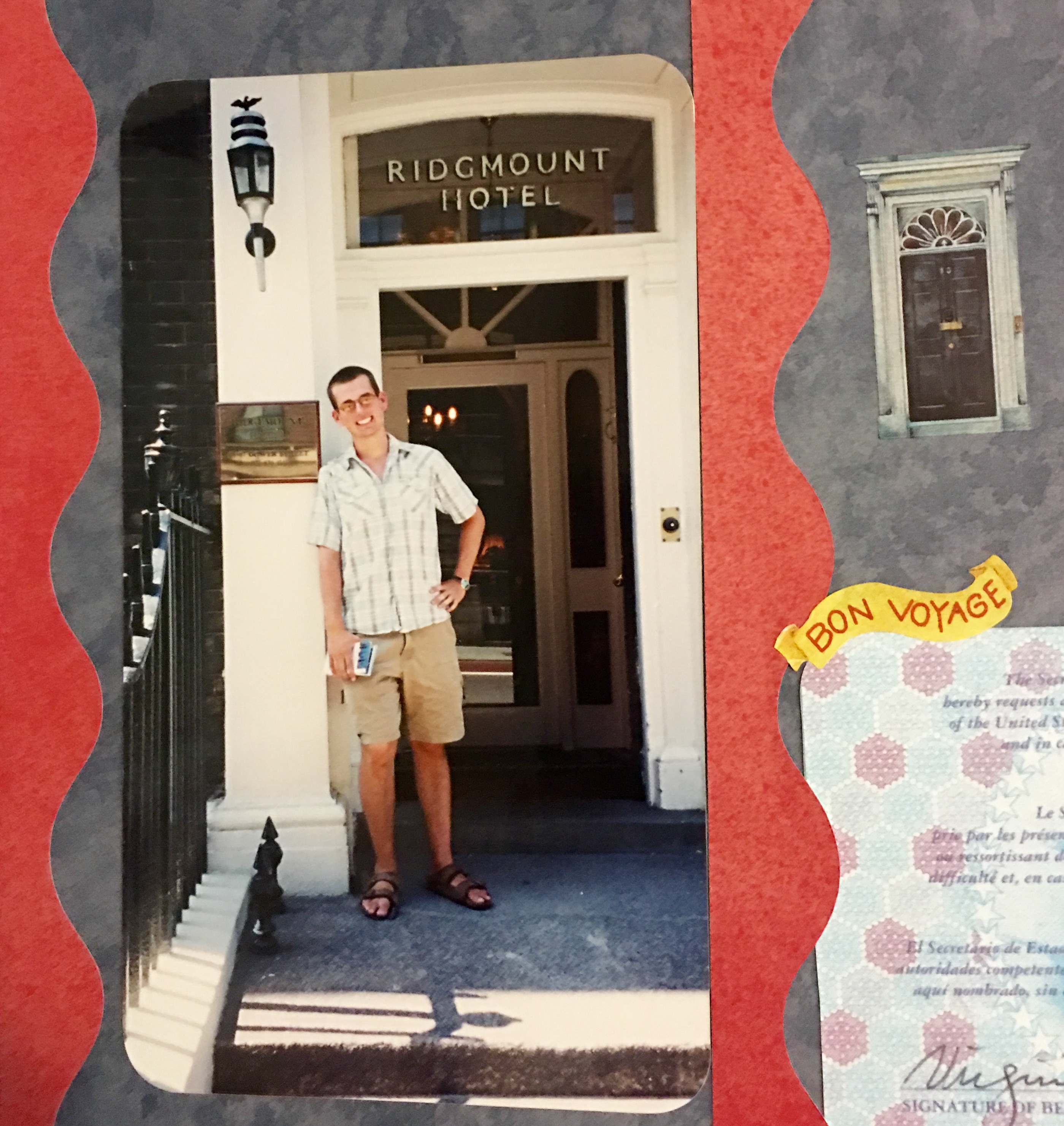 Scrapbooking is like a Ouija board for nostalgia. Usually this ethereal force that alternately warms and stabs our hearts, nostalgia is harnessed by scrapbooking into a kind of total recall of events. To an outsider, a beautifully constructed scrapbook might look like a Photoshopped version of events — a postcard memory. But scrapbooking allows for the opposite, at least in my experience. The process of scrapbooking allows me to fully reflect on every angle of an experience.
This reflection is hard. Like most LGBTQIA+ people, I have a lot of pain in my past. Pain suffered at the hands of bullies, of society, and of myself. Pain that often made very little sense at the time of its infliction. This is where scrapbooking can help. It allows for reflection to be coupled with action. The act of sorting through memories, painful or not, is empowering. It may seem symbolic, but it's more than that because an actual document — an artefact – is being created in the process.
For example, I have a scrapbook my time spent studying abroad in northeast Australia, one of the most beautiful places in the world. However, this part of Australia was also at the time quite socially conservative, and gay activity was restricted to the Internet and a few gay clubs. In building my scrapbook I thought back to hurled slurs, having my boyfriend (who was closeted) deny my existence, being called "Gay Mike" by everyone, including my closest friends.
Unlike my trip to England, I did not feel at home in Australia. Scrapbooking, though, allowed me to control how I remembered Australia. It may sound as if I'm putting a rose tint on the past. But pain can't be erased with the cropping of a photograph or the addition of stickers. Pain, shame, fear, and embarrassment are all tattooed on my skin. But scrapbooking my Australian experience allowed me to declare what I wanted to take away from Australia. I fell in love. I was independent for the first time. The nature was beautiful and I met some of the best people I've ever known. I frolicked on some of the world's most beautiful beaches and saw some of the world's weirdest animals. My brother visited, and we had an absolute blast.
Those are the things in my Australian scrapbook, and I look back on that time with joy. I don't forget any of the bad things, but my scrapbook has allowed me to keep those bad memories at bay, to prevent them from smothering the good ones.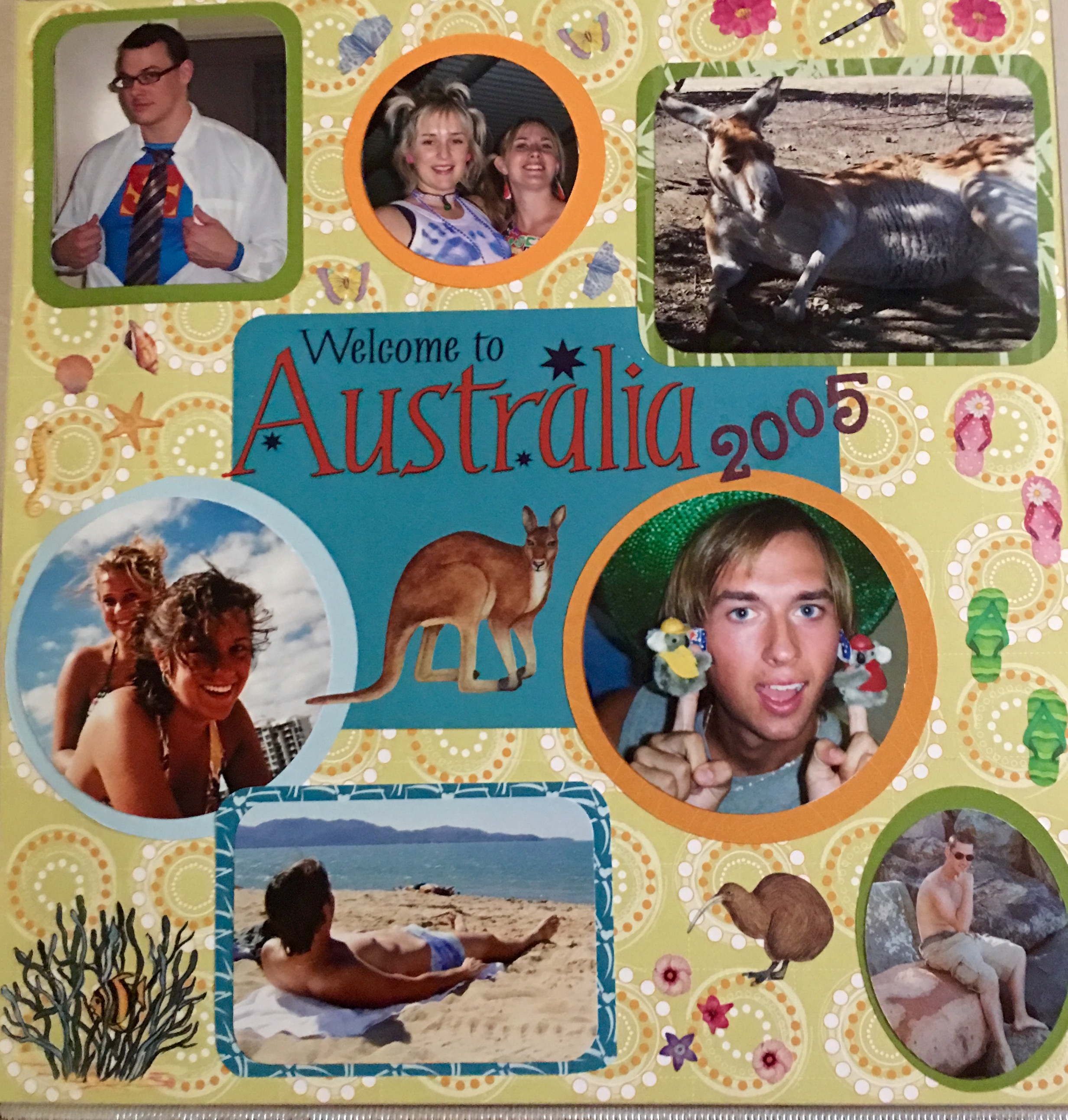 Beyond what scrapbooking gave me mentally, it had tangible benefits as well. The actual skills associated with scrapbooking have aided me countless times in my career, most significantly in the field of advertising.
Work took me around the world, and I spent 2007 to 2011 living in London, Johannesburg, Cape Town, and Hong Kong. In the fall of 2011, my husband and I made the decision to move to the United States, specifically to New York. I just had to find a job. New York City's advertising field is notoriously competitive and overflowing with eager job hunters with endless reserves of creativity and technical skills.
I arranged a series of interviews and arrived in New York from Hong Kong with a briefcase full of résumés and a portfolio of great international clients. However, it felt like something was missing. When I got to my hotel in Manhattan, it dawned on me what I could do to set myself apart. I called my mother and had her run to Mrs. Costa's and get me the shiniest scrapbook she could find. She overnighted it to me along with a heap of supplies. Luckily I'd given myself an extra day to recover from jetlag before my interviews, and as soon as my things arrived, I set up shop in the hotel's business center, printing, cropping, and sticking my working life into a silver, star-adorned scrapbook.
I didn't know whether I would be successful, but I was relatively sure that no other candidate for a senior role in a New York advertising job would have a scrapbooked résumé. One of the lessons that scrapbooking had given me over the years was that personal moments count far more in a scrapbook than the generic, no matter how stunning that generic moment was. As beautiful as the Eiffel Tower is, everyone has seen a picture of it. Scrapbooks are for showing yourself posing with a stranger in front of the Eiffel Tower, eating a dozen croissants, or looking awkward in a beret.
So I focused my scrapbook résumé on the personal. I had my education, agency experience, and client list, of course. But I also showed myself sitting fireside with my boss on retreat in South Africa's Karoo desert and eating spicy soup on a business trip to Shanghai. I included pictures of myself running the London Marathon and posing with friend on Hong Kong's Avenue of Stars.
I got the job and took that scrapbooking experience to the agency with me, advising colleagues on how to creatively present work to clients and how to pitch for new ones. And I kept scrapbooking for myself, which helped me not only to remember what I loved about my life but helped me reflect on what I didn't.
Which is also how I ended up leaving advertising. In focusing my scrapbook résumé on the personal, I also identified what it was that I loved about my job. I loved the travel and the people, the new experiences. What I didn't love was the work. In looking back at the scrapbook now, the signs are all there. I reflected on educational experiences warmly and thoroughly and skipped over entire years of actual work experience. Most tellingly, I included a page in my scrapbook about how I dreamed of being an author. Who applies to a job by telling potential employers they want to be something else?
Eventually, I left advertising and went back to school to be a writer. I now teach, too, which is another area where scrapbooking knowledge proves to be a helpful arrow in my quiver, though a young male teacher telling a group of millennials that he scrapbooks is also a recipe for instant criticism.
Which doesn't bother me much. In learning to scrapbook, I learned to focus on what's really important. Sometimes what's really important is cropping your midsection or ex-boyfriend out of photos. Sometimes it's adding a hundred stickers to a page to emphasize the importance of an event. Sometimes it's holding on to the smallest memento of a person or place. And sometimes it's choosing to let something go.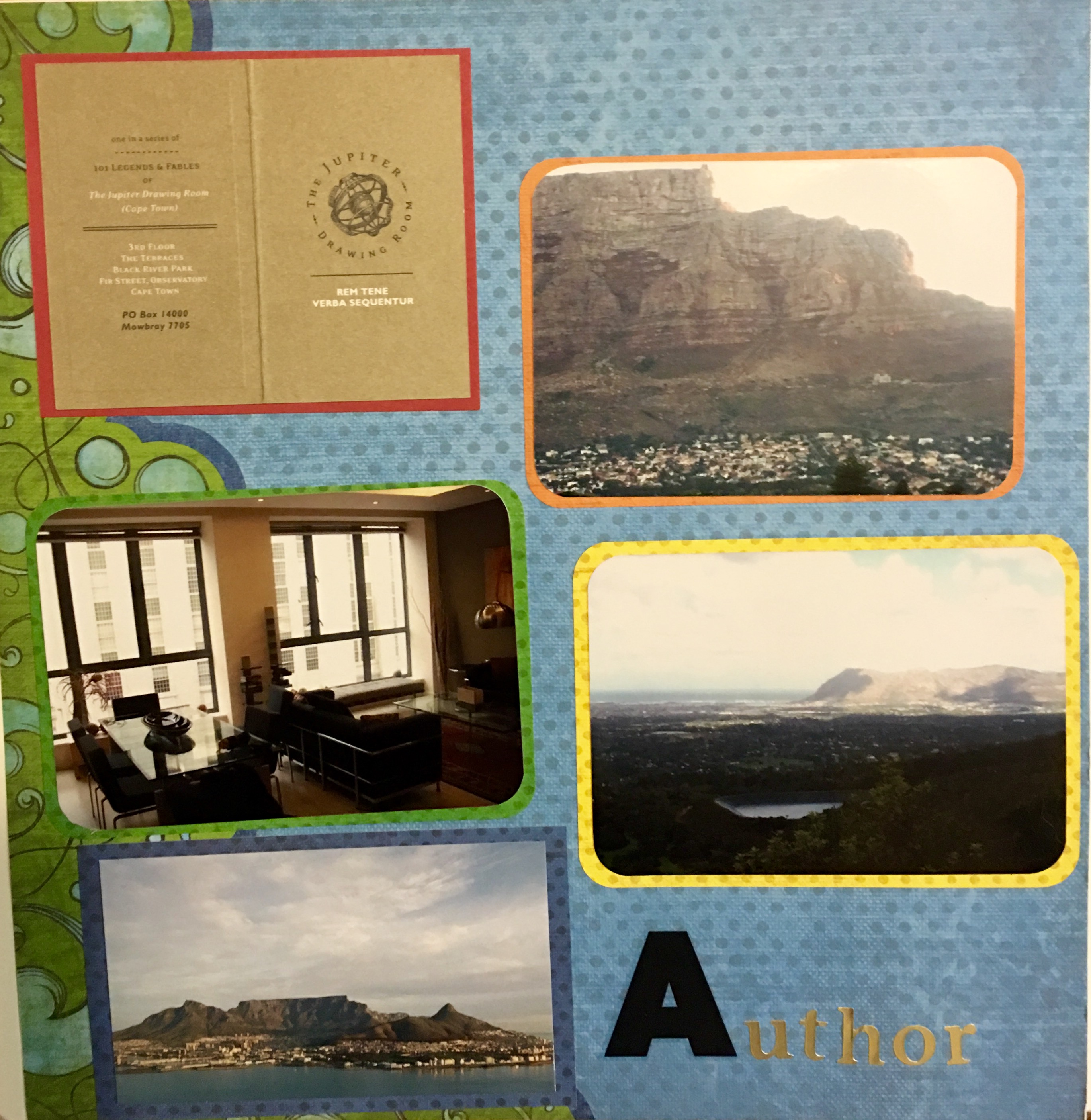 top photo by Vladimir Proskurovskiy on Unsplash