National Poetry Month Contest Winners
Brittany Adames and Alex Stolis
Thank you poets – thank you for sharing your words, your language & imagery, your questions, and your ways of interacting with this beautiful & confounding world we inhabit. #NaPoMo makes April a month rich with posts & poetry & poets to read. The submitters to Brain Mill's contest have enriched our reading, from prose poems to lines of lifted wisdom to switching points-of-view, to poems paired with and sandwiched alongside images.
We hope you've enjoyed our Editors' Choice Selections over these last weeks, as well as highlights from our featured poets. We're excited to share the poems of our winning poets, as well as a short list of fabulous poets whose work you should seek out & read – we know we'll be eager to read more of them.
—C. Kubasta, Assistant Poetry Editor
Winners:
Brittany Adames, "A TANK WITHOUT GASOLINE"
Alex Stolis, "Never isn't as long as we think"
Short List:
Paramita Vadhahong, "A Meme Reimagined: Love Between the Gaps"
Emily Hockaday, "Trending Topics"
Mira Martin-Parker, "Like a Poor Girl"
Merridawn Duckler, "Samsara" and "#Nine Pick Up Line"
Cherry Jubilee, "Bordello Song"
A TANK WITHOUT GASOLINE
by Brittany Adames
About Brittany Adames
Brittany Adames is an eighteen-year-old Dominican-American writer. Her work has been previously published in CALAMITY Magazine, Bombus Press, Rumble Fish Quarterly, TRACK//FOUR, and Rust+Moth, among others. She is pursuing a major in creative writing at Emerson College and serves as the poetry editor for Ascend Magazine and prose reader for The Blueshift Journal. She has been regionally and nationally recognized by the Scholastic Writing Awards.
Never isn't as long as we think
by Alex Stolis
We are impermanence, filaments of light. We are not straight
Lines drawn from Point A to Forever highlighted in transparent
Blue. We spin ourselves tales. Of beginnings, of firsts. First kiss
First touch. First fuck. We mythologize impatience, fumble with
Buttons, snaps, belts unbuckled and hair unpinned. We become
A sonic boom rattling windows and shaking walls as if never can
Be measured by decibels. Not how long we can hold our breath.
About Alex Stolis
Alex Stolis lives in Minneapolis; he has had poems published in numerous journals. Recent chapbooks include Justice for all, published by Conversation Paperpress (UK) based on the last words of Texas Death Row inmates. Also, Without Dorothy, There is No Going Home from ELJ Publications. Other releases include an e-chapbook, From an iPod found in Canal Park; Duluth, MN, from Right Hand Pointing, and John Berryman is Dead from White Sky e-books. His full-length collection, Postcards from the Knife Thrower, was a runner-up for the Moon City Poetry Award. His chapbook, Perspectives on a Crime Scene, and a full length photo/poetry collection, Pop. 1280, are forthcoming from Grey Borders books.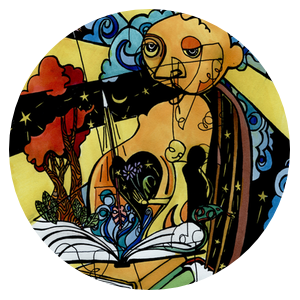 BMP Celebrates National Poetry Month 2018
Maybe you have lines living in you. Maybe you've been walking around like the speaker in Maggie Smith's "Good Bones": "This place could be beautiful, / right? You could make this place beautiful." Maybe you've been inspired by Isobel O'Hare's erasures, and have an urge to address some things. Maybe you've woken up in the spiked night, with a line swimming out of the deep. Maybe you have a story to tell. Or, maybe you memorized Jericho Brown's "Colosseum" and have been repeating to yourself: "I cannot locate the origin / Of slaughter, but I know / How my own feels, that I live with it / And sometimes use it / To get the living done . . ."
These poetic efforts have touched me in the last few months, in that strange trigonometry of language, chance, and seeking, that we readers and writers do. Brown's lines resonated with me, brought me low, and offered something – if not quite comfort, then a kind of recognition.