"We Are All So Good at Smiling" Shows That Depression Doesn't Have To Kill Your Magic
Following her 2021 debut novel in verse,
Me (Moth)
, Amber McBride returns with her 2023 sequel novel,
We Are All So Good at Smiling
.
It stars Whimsy, a Black hoodoo conjurer girl with clinical depression who also loves fairy tales. Many years ago, she was touched by Sorrow when her brother Cole disappeared in a magic forest, and she vowed never to enter it again.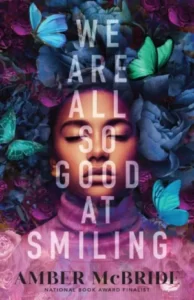 One day, Whimsy meets Faerry, a Black fae boy who shares struggles and fears similar to Whimsy's. As the two of them get to know each other, they discover that the forest and Sorrow that haunt them both must be faced head-on.
As a novel in verse, one of the things that this book does well is address the sensitive topics of depression, self-harm, and suicide in a lyrical and authentic way. This is partly due to the book's having been inspired by the author's own experiences with clinical depression, but it also builds on the theme of recovery first featured in Me (Moth). 
One of the best lines from this book reads, "We need to remember that a mind is still a mind / floating like a newborn cloud / or bird wings drowning in hardened chocolate… / People always forget / that a rough day, a bad year / doesn't equal a bad life." There are similar lines from the book that evoke not only the rawness of depression but also the tentative hope of healing.
Another notable feature of this book is how depression is metaphorically represented through a wide variety of fairy tales and folklore, ranging from Hansel and Gretel to Anansi. A personal favorite use of folklore is Mami Wata, the West African water spirit associated with fertility and life. I've seen one or two different interpretations of Mami Wata in a modern lens through literature and art, but McBride's take on her is particularly poignant and empowering. 
Not only is the use of folklore and fairy tales skillfully done, but it takes the reader on a harrowing and epic adventure that makes Whimsy and Faerry the heroes of their own fairy tales. Both Whimsy and Faerry are wonderfully magical and flawed characters who show how depression varies depending on the person. For instance, Faerry puts up a happy-go-lucky front, whereas Whimsy is blunt and sullen. 
Both Whimsy and Faerry occasionally put on a mask of fake smiles to appease their families, who are dismissive and unaware of how much they are hurting. This is where the book's title comes from, and it serves to highlight how stigmatized mental health is among the Black community. One line of dialogue said by Faerry's dad also demonstrates this: "You have pills, you have therapy, get it together. Black boys don't get to be sad and feel their feelings."
Given how much is going on in this book, the story moves at a brisk pace, which isn't a bad thing. It doesn't waste time focusing too much on school life or romance, allowing the characters and story to shine in a satisfying manner.
Every fairy tale or folktale usually has a moral, and We Are All So Good at Smiling is no exception. For those with depression who have always wanted to be magical, this book shows that depression doesn't have to stop you. You can rewrite your story and own your power, because you are so much more than your trauma. This is the book that I needed when I was younger, and now a new generation can experience this tale of mental health, magic, and recovery.
The Afro YA promotes black young adult authors and YA books with black characters, especially those that influence Pennington, an aspiring YA author who believes that black YA readers need diverse books, creators, and stories so that they don't have to search for their experiences like she did.
Latonya Pennington is a poet and freelance pop culture critic. Their freelance work can also be found at PRIDE, Wear Your Voice magazine, and Black Sci-fi. As a poet, they have been published in Fiyah Lit magazine, Scribes of Nyota, and Argot magazine among others.