The Poetry of Excel Spreadsheets
C. Kubasta
So, the news is out.
A spreadsheet that circulated online for a very short time, that named names, that filled in details ranging from harassment to assault, that warned about men to be wary of, to avoid, that utilized the clean formatting of cells and color-coding, as a kind of organized and efficient clarion call, has had its original maker named. Moira Donegan named herself because she had to – because rumors had begun that she would be named, because she received a call from a fact checker, calling to check the "fact" that she created the Shitty Media Men spreadsheet.
It was true, sort of. The original spreadsheet began with her, but it became something much more than her work. As it was online for only a few hours, anonymously, and as it was a crowdsourced document, the work became a collaborative piece — added to by many others. Women added names, added details and situations to names already there, added categories of behavior. If a man was accused of physical sexual assault more than once, his name was highlighted in red. Concerned about the way anonymity could allow for false accusations, Donegan added a disclaimer at the top of the document. The spreadsheet's clean lines, tidy columns, organizational format allowed for the document to grow to encompass all its authors — a community — writing of their experiences, warning others, bearing witness to the kind of interactions they navigate on an often daily basis inhabiting their bodies and identities in this world.
The poet Isobel O'Hare has been creating erasure poems by blacking out the statements and/or apologies of celebrities accused of sexual assault and harassment. So many of these statements are lacking — full of misdirection, qualification, what-about-ism, conveniently faulty memories, long-winded sentences that never track back to what it is they're supposed to be addressing . . . all in the interest of avoiding/distancing/distracting the reader/listener. O'Hare strips them down to an essence, finding a mystery message of a phrase within the expanse of text crafted by handlers and publicists. These erasures are thrilling to read, as if maybe — just maybe — we could imagine these being the actual words hidden within the words. O'Hare's erasure poems will be collected and published this February by University of Hell Press, titled all this can be yours (with proceeds going to RAINN and Futures Without Violence). Additionally, O'Hare is editing an anthology/manifesto of feminist redactions. As with the spreadsheet, once O'Hare shared their work online, it engaged others and led to a continuation of that work.
I imagine O'Hare, not unlike Donegan and the community of women who created the spreadsheet, using the tools of the office (the world of work) to create a poetry from these most unpoetic of materials: picture them grasping Sharpies, giveaway pens with corporate logos, and printed text from press releases, and uncovering what is there – what is really there, beneath the surface.
Consider Artemisia Gentileschi's painting Judith Slaying Holofernes: Gentileschi painted her own face as Judith, her mentor Agostino Tassi as Holofernes. This is an old old story. Tassi had originally denied the accusation, denied ever being at Gentileschi's house. Later, he admitted proximity, claiming he'd visited to safeguard her honor. He'd been accused of previous rapes, was suspected of the murder of his wife. He was found guilty of raping Gentileschi, sentenced to two years, but the verdict was annulled and just a year later he was free. Gentileschi painted this painting a few years later, her second version of this scene. She imagines the moment of the knife at Holofernes's throat, his last breath, being held down; Judith is assisted by her maid, a much younger woman. They work in concert and overpower him.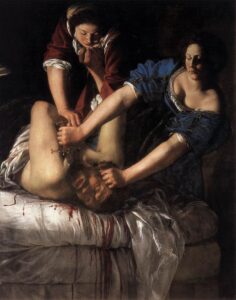 What I mean to say is that poetry, like all literature, must challenge the status quo — must challenge the reader to reconsider what power means, who has it, who should have it, and how it should be wielded. What is more of a challenge to that than the very notion of author, of "I"? Collaborative texts, intertextual texts, and anonymous texts kick the legs out from under the very notion that a text can be owned and controlled. It's why when Moira Donegan was going to be outed, so many women responded online with #iwroteit; it's why the erasures Isobel O'Hare began, inspired, and is now collecting are so powerful – they take the words of others and incorporate them into the poetic project, creating a hybrid text where the boundaries of ownership are blurry.
Poetry is also about form, which is another reason I'm drawn to erasures – they uncouple ordinary language from syntax and grammar, summoning a dream-voice from the carefully constructed language of (often, in this case) not-apology, from rationalization. In doing so, they allow to speak the words that have power but were heaped with watered-down, corporate-speak, passive-voice nothingedness; they separate the power of language from the uses those in power often coerce language into. Erasures are an act of resistance — subversive. Gentileschi too worked within a form: a biblical story, an oft-painted scene, working in the vein of artists like Caravaggio and her own father. But she makes some important changes even working within this existing tradition — including the much-younger maid (a warning there); including her own face, her own rage; calling out the identity of her rapist and mentor, ensuring he'll be remembered for all time for that . . . for what he did, and for that scene of her imagined revenge.
Spreadsheets are useful to keep track of submissions, threads of story, dates and details for character developments. I remember when I realized that they were more than just elegant-looking tables, but rather something I could use — an organism to be crafted and tamed. They could do my bidding, they could morph, they could serve my needs and desires. A well-wrought spreadsheet is a thing of beauty, even when what it tracks is pain. Think of the possibilities for poetry — think what could be tracked within those cells, how to de-couple language from syntax, how to weave language and pattern and power. Thank you to all those writers who added their voices, who painted themselves into the picture, who took the sad pseudo-apologies and fixed them. Thank you to everyone who communicates in words, in a touch of the arm, with the safety of their presence, with a whispered warning, a too-long holding of eye contact — from whisper networks to the more formal spreadsheet, we need to take care of each other.