National Poetry Month Spotlight: Novels in Verse
April is National Poetry Month, so I wanted to celebrate it with some Black YA novels in verse.
Novels in verse are my personal favorite YA subgenre because they combine poetry with narrative storytelling to enhance the thoughts and experiences of the characters. As a teen, the first novel in verse I read by a Black author was Bronx Masquerade by Nikki Grimes, which was about a diverse poetry club at a high school in the Bronx.
Two decades after its publication in 2002, there are now a plethora of middle grade and YA novels in verse by Black authors old and new. Maybe it's because I'm a poet, but I get excited whenever I see a new novel in verse. I love reading them and seeing different poetry forms used and experiences told. Here are some of the most compelling Black YA and middle grade novels in verse.
Legacy by Nikki Grimes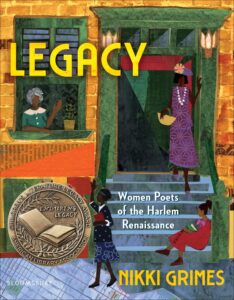 This is more of a collection of poems and visual art than a novel in verse, but I'm including this book because it's become one of my new favorites. Using the Golden Shovel poetry form, Grimes takes one line or short poem from a Black female Harlem Renaissance poet and uses it to make her own poem. The book itself is formatted so you read the Harlem Renaissance poem first and then the poem it inspired Grimes to write. Each set of poems is also accompanied by visual art by Black women, including Vashanti Harrison and Shada Strickland. As a whole, the poetry and illustrations work together to bridge the past and present.
Catching a Storyfish by Janice N. Harrington
A novel in verse aimed at a middle school audience, this book tells the story of Keet, a young Black girl from Alabama who loves talking and tellling stories. When she moves away, she isn't sure how to cope until a fishing trip with her grandfather teaches her how to listen before speaking. However, her grandfather suddenly has a stroke and that makes him feel further away from her. In order to reconnect with him, Keet must find her voice again through stories.
Long Way Down by Jason Reynolds
In an elevator, a teenaged Black boy named Wil is on the way down with a gun in his waistband to take revenge for his older brother, who was murdered by someone in the neighborhood. But each time the elevator stops on a new floor, Wil is visited by ghosts who make him question everything he thinks he knows about revenge and emotions. Through a true-to-life cast of characters and powerful verse, Reynolds delivers a poignant tale of gun violence through both its victims and those left behind. This book lingered in my mind long after I read it because of how skillfully Wil's conscience is represented and questioned through the characters and words.
Solo by Kwame Alexander
Filled with both music and poetry, Solo features the tale of Blade, the son of a washed-up rock star named Rutherford. When Rutherford's legacy threatens to overwhelm him, Blade finds a letter about his parentage that leads him to Ghana. From there, he undergoes a journey to find out who he can become outside of his father's influence and whether he can live up to the expectations he has for his life. I really appreciated how Alexander wove together various cultural influences, such as rock music and Ghanaian culture, to shape Blade's character development.
Every Body Looking by Candice Ihoh
A coming-of-age story starring a first-generation Nigerian American female protagonist, this book explores the impact of heavy familial expectations and the desire to break free and express your true self. When Ada attends a HBU, she finds herself following her passion for dance while exploring her sexuality. At the same time, she also comes face to face with past issues as she tries to claim ownership over her body and future. It is rare to see a YA novel set in a college space, so finding one that is also in verse is extra special.
The Afro YA promotes black young adult authors and YA books with black characters, especially those that influence Pennington, an aspiring YA author who believes that black YA readers need diverse books, creators, and stories so that they don't have to search for their experiences like she did.
Latonya Pennington is a poet and freelance pop culture critic. Their freelance work can also be found at PRIDE, Wear Your Voice magazine, and Black Sci-fi. As a poet, they have been published in Fiyah Lit magazine, Scribes of Nyota, and Argot magazine among others.