Mothering the Sexy
Christie Perfetti Williams
Sixteen years ago, I moved from the warm bosom of my frigid family homestead in Oswego, New York, to Manhattan and produced my first off off-Broadway play. It required the kind of impenetrable naiveté and unflinching courage found in kids and crazy people.
I penned the play, Carnival Girls, while in college. It was a piece I described as "multi-genre and non-linear." Basically a hodge-podge of highlights from my writing portfolio that spanned four years as a coed studying creative writing.
Ever since my grandmother, smoking a cigarette and sipping black coffee, told me the stories of the mascaraed hootchie kootchie girls, I was obsessed with the women who worked the sexy, seedy small-town carnival circuit. So much so that today, I have a thriving NYC-based theatre company as well as a book series that bears the same name: The Carnival Girls.
An all-female theatre company, Carnival Girls Productions creates, produces, and promotes original theatrical work by and about women. Our mission is quite simple: great roles for women = great entertainment for all. And the same belief holds true for the first book in my series, Sadie of the Sideshow.
But ironically, or perhaps not, it all truly began in dingy strip club turned off-Broadway theatre across from the Port Authority Bus Terminal ten blocks from Times Square. There, I held an open casting call for female "actors, dancers, magicians, musicians, contortionists and comediennes" ages eighteen to twenty-eight. This is where my impenetrable naiveté got poked.
Hundreds of young women showed up to audition for my mildly entertaining, entirely non-paying theatrical hodge-podge. And 95 percent of these performers? Fiercely, brilliantly, achingly talented. I never truly knew what a muse was until I arrived Manhattan and had two hundred of them staring back at me, equally wide-eyed and hungry as their playwright turned producer.
And so began the task of writing new parts for the production. Because despite not having material for her, how could I turn away the ashen-faced Russian girl with the blunt black bangs and the Mona Lisa grin? Or the crop-topped and bejeweled Israeli dancer who not only could break dance but break hearts with a mere twitch of her hip? Or the African American actress whose command of the stage whilst wearing fishnets and devouring a bagel had me near tears? Mama, I wasn't in Oz(wego) anymore. And was so very grateful for it.
My imagination went wild with the possibilities for performance. I saw clowns and con artists. Strippers and sword swallowers. Mystics and money makers. A cruel carnival barker in a corset, top hat, and brandishing a riding crop! Every artist who took the stage, I asked the same question: if you could be any kind of carnival girl, who would you be? I expected answers that were as interesting and diverse as the artists themselves. My naiveté got rammed again.
The "hot" one. The "sexy" one. The "slut." This is how every single one of the young women responded. (Except for the one who said she wanted to be a hamster. I still have no idea what that means or how she envisioned that in a carnival world, but I'm not convinced it wasn't sexual either.)
My twofold takeaway from this unintended social experiment was, one, young women had a very skewed (though not entirely inaccurate) view of what it meant to be a carnival worker. And, two, we were all woefully sexually repressed and craved a safe place to bear our beauty and booties.
It was just like the whole Halloween costume conundrum that our culture has been tortured and titillated by for decades. The one night a year where every and any woman could crank up their boobs, stuff their feet into stilettos, and strut out in public without fear of being judged a whore or harlot. And if a performer could do this on stage under the auspices of art? Well, damn, the hotness just got cooler.
Fast-forward fourteen years later, when an editor-friend called me with a scintillating writing opportunity. She was working for a publishing upstart that was soliciting submissions of erotic fiction for their catalogue. My friend thought of me and the modest carny girl empire that I spent the last decade building, complete with over a dozen plays and branded panties. I was advised, "Think 50 Shades but good."Suddenly, I was the actor on the stage. I was the one given the green light to stand up and strip down. And not that I ever needed permission, but it was a kick being asked. Certainly a motivation to explore another side of my creative self, flex a kinky muscle or two. And as an artist, isn't that my responsibility? To go where I've never gone before? If not for my audience, then for myself?
But there was a hitch. A sticky, curly-blond-locked one named Luke, my toddler. Who at the time was just two years old.
I spent over a decade living single in Manhattan during the height of Sex and the City (which I didn't watch because, unlike my fellow writer Carrie Bradshaw, I couldn't afford cable). Those were the days of writing all night and sleeping all morning. Eating cereal for dinner and drinking mimosas for brunch. Making out with strangers. Spending whatever little extra cash I had on costume jewelry, concert tickets, and copies of bootleg screenplays sold on street corners. I was so very naughty.
If there was ever a time for me to discover my inner Anais Nin, it would have been then. But not now. Not in the suburbs. Not when the majority of bodily fluids I had the pleasure of being around came from my drooling, puking, and pooping son.But while my decade of debauchery was long gone, I had earned a plethora of delicious memories from which to derive inspiration. And the wisdom to know that opportunities, particularly the real fun ones, are often fleeting.
So as a new mom now living in New Jersey, learning how to maneuver jug-handles and coordinate writing sessions with naptimes, I embarked on a new journey as an erotica writer. And it came with a couple of self-imposed caveats.
First, feverish loins and trembling thighs aside, I'd write novel that my grown-up boy would be proud of. Or at least not embarrassed by. And it wasn't the first time that I considered the perspective of my little man as a big man. In my early twenties, well before Luke was on this planet and had sucked the jolly from my joombas, I was asked to pose for Playboy. I declined. Because I knew I wanted to be a mom someday. And not a mom with a past history of porny-pics.It was essential to me that my novel not just have steamy scenes but a real storyline and great writing. It needed to be as good as, if not better than, any of my pathos-infused play scripts. Because I had something to prove now, not just to me and my readers but to my son. Before motherhood and Manhattan, this woman was a writer. Mediocrity or pulp fiction weren't options.
Second, I'd create a story that would contribute to the world that I wished for Luke and God-willing his siblings. Enter carny girl Sadie Valentine: a strong, sexy female protagonist with full autonomy, in charge of her life and body. And her male counterpart, Cole Snyder, who admires her intelligence, enjoys her tenacity, and, yes, lusts after her curves.
It's a cause I've championed for almost two decades as a playwright; better, more diverse roles for women. My mission couldn't and wouldn't stop because the sex suddenly got explicit. Because it wasn't just wounded women in need of rescuing who enjoyed the gymnastics of the flesh. But all the rest of us.
Finally, I wasn't going to be a cliché. And this began with not seeing myself as cliché. Despite all the signs that pointed to cliché-dom. Suburban stay-at-home mom, underwashed and overdressed in wooly flannel pajamas, writing a bodice-ripper while her woefully neglected kid eats Oreos, watches Blues Clues, and decorates the walls in crayon art.
Because all fantasy aside, I bet most erotica writers worked in atmospheres that looked more like mine than they did the lustful pages of their paperbacks. And this wasn't comforting to me, but I wasn't going to let it discourage me either. The reality was I had written some of my darkest, most intense plays while nursing and humming lullabies. Paradox was everywhere, not just in mommy-porn.
The result? A kick-ass novel with fun, interesting characters set against the backdrop of the American sideshow. With a bit of magic and boom boom mixed in. I even used my real name on the cover. I'd be damned if anyone else got credit for it, including my saucy childhood alter ego Belinda Lavantia.
Back in my big-city-living days, my favorite part of riding the subway was seeing what everyone was reading. The myriad of newspapers printed on various colors of faded paper stock. Cinderblock-sized hardcovers propped up on breasts and bellies. Worn paperbacks folded into palms. I would imagine one of them was mine. Long gone was the dream of having an author card in the card catalog; a book on the Q train was the next best thing.
But then ebooks exploded onto the scene, and suddenly nothing could be seen. No titles and no covers. Readers hid their treasure and pleasure from spying eyes. Unafraid of being caught and judged, this is when most women caught up on their fiction de amour. Like the actors on the stage, like the revelers on Halloween, like the wife surfing the web for slow-cooker recipes, they too had cravings.
And if this mom's fancy art could embrace their desire, nurture their fantasies, help satiate a hunger while whetting a palette (and maybe something else), then my job was done. And done damn well.
About Christie Perfetti Williams
A novelist, blogger and multi-award winning playwright, Christie is the founder and artistic director of the NYC-based theatre company Carnival Girls Productions. She makes her home on the Jersey Shore with her husband, Greg, son, Luke and dog, Cleo.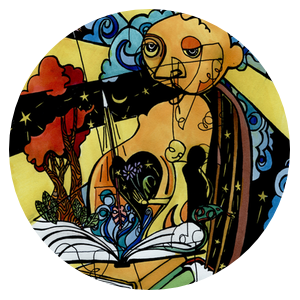 BMP Celebrates National Poetry Month 2016
If "love calls us to the things of this world," then poetry too can call us to think about challenging questions, difficult situations, and social justice, implicating and engaging the reader with the world we live in, in the hope that this engagement is a step toward wrestling with our better selves.